Round 2 - 30 October 2011 - Leicester Leys Leisure Centre, Leicester
| |

---
The second round of British Cycling's National Trophy Cyclo-Cross series comes to Leicester Leys Leisure Centre on Sunday 30 October 2011.
With the Start List released, we look at the riders who will be taking part and consider who may be the ones to watch on the day.

Event Director Gary Coltman and his event team have planned out a fast, sweeping course which should produce some close, exciting racing. The venue hosted last season's inter-regional event and should be familiar to many of the competitors.
The first round at South Shields produced some very close racing, influenced heavily by a strong gale which blew throughout the day. This changed the dynamic of the racing, forcing riders to work together and share the workload of facing the wind. If Leicester is calmer, we might find a few of the canny riders who made the most of the conditions on Tyneside, find it harder to make their mark. It adds an intriguing sub-plot to the day's racing.
Paul Oldham leads the opening round from eventual winner Tijes Al

Senior & Under-23 Men
The Senior Men's race should once again boil down to Jody Crawforth against Paul Oldham, with a couple of continental visitors thrown in for good measure. Crawforth and Oldham are day-in day-out the best two riders in the country. Oldham was second in the opening encounter, behind Dutch visitor Tijes Al, with Crawforth third, 15 seconds down.
Since then, Crawforth and Oldham have produced a classic head-to-head in the second of the Rapha Super-cross events in Huddersfield. Crawforth took that at the death with his well-know kick, after Oldham was unable to gap him on the last lap. In their contrasting styles, they are very closely matched -Oldham always seems the likelier to get away on his own, but if it comes down to a last lap gallop your money would always be on Crawforth.
Of the rest, Lee Williams has been showing very good form in the last couple of weeks, including winning the Windermere Super-cross. He is one of a group of riders, including David Fletcher – coming back strong after an injury wrecked end to his MTB season – Dan Booth, Dave Collins and Tom Last who should also be in the running for top five positions. Don't discount veteran Nick Craig either. He still has a burning desire to win at the age of 42.
At the other end of the age spectrum, Steve James has looked the strongest under-23 male rider this season. He was ninth in the senior race at South Shields and an even better third at the Huddersfield Super-cross. The tall Hargroves' rider has shown his best 'Cross form to date in the last month or so and will start as the strong favourite for this category. James will face tough opposition from Luke Gray, Jack Clarkson and Luke Grivell-Mellor, three first year Juniors who have made the step up to senior racing with aplomb.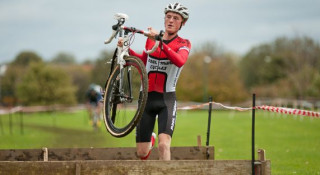 Joe Moses - top Junior so far this season
Junior Men
The Junior Men's category is traditionally the one to watch for tomorrow's stars. Riders in this age group seem to make very rapid gains in speed and strength and racing can often be unpredictable. Having said that, Joe Moses produced one of the best rides of the season to date to win the opening round. He was one of very few riders who successfully took on the South Shields gales alone for any length of time. This tall, strong rider looks every bit as good as his elder brother and former national champion Tom did at the same age. Amongst those hoping to track him down at Leicester will be Adam Martin and Alex Welburn, who finished almost together, half a minute behind Moses, but almost a minute ahead of the rest.
Veteran 40 & Veteran 50
It's always interesting to see how the first race of a new season pans out in these categories as the established riders come up against newly qualified veterans. And it was one of the latter, Zepnat's James Bryan who won the opening encounter, despite suffering the after-effects of a collision with a bus in training.
Bryan found himself in a four way battle with last year's series winner, Darren Atkins, former series champion Chris Young and 2009 National Champion Noel Clough. Clough showed he may have put his patchy form of last season behind him with an attacking ride, going off the front alone and surviving being caught to finish third. Atkins drifted off the pace in the latter stages, which was a surprise, given his dominance last year – he will surely go better at Leicester. Young, meanwhile, showed that despite having been in this category for over 5 years, he's still the one to beat, hanging in with Bryan as he attacked in the closing stages and claiming an impressive second.
In the over-50 category, the 'establishment' of Martin Eadon and Ian Wright, will be joined by the man who dominated the 2010-11 season, Steve Davis, who missed the opening round. They will all have to cope with the new "kid" on the block, Mick Bell, who won the sprint which settled the opening encounter in South Shields.
Adela Carter, winner of the opening round, leads Corrine Hall
Women
Adela Carter was the surprise winner of the opening round of the series, putting behind her a year of injury problems with a well-paced race, which she won coming through in the later laps as her rivals tired. The second round of the series promises to be a closer affair with Bethany Crumpton entering the fray after missing round one with illness. Second and third in round one, Corrine Hall and Jessie Roberts are both consistent performers and should once again be in contention, alongside Hannah Payton, last year's series winner, who faded unexpectedly after leading the race early on. However, there will also be a lot of attention on recently crowned junior world road champion, Lucy Garner, who won twice during the 2010-11 series and who will be racing on, effectively, home territory.
Youths
Short races, ambitious riders and big fields make the Youth categories some of the best to watch. The short length means that it's difficult to make up for early errors, so Youth races are fast and hectic and often won by relatively small margins. The first round saw the Solihull duo of Jack Ravenscroft and Dan Fox pull off an impressive one-two in the under-16 male category. Watch out for Billy Harding to make up for his disappointing 4th place in the opening round. The Under-14 category looks like a simple question of whether anyone can match the pace of round 1 winner, Dan Tulett, who won by almost a minute in South Shields and looked a class apart. David Barnes was the best of the rest and will doubtless have plans to stay with Tulett a little longer this time out.
The Under-16 female race features Grace Garner, sister of Lucy and the winner of the opening round. Grace can expect tougher opposition in round two – watch out for round 1 runner up Emily Nelson to be joined by Fionn James (sister of track sprinter Becky)and Jessica Wilkinson in a close race. In contrast, the Under-14 female race has a red-hot favourite in Charlotte Broughton, who won the opening encounter by almost 4 minutes and who was lapping faster than Grace Garner. Mechanicals and illness excepted, she should win.