Sandwell Lions Roar to Victory
Event: Under 16 Club Championships, Wednesfield, 15th May 2010 | Report & Images: Andy Whitehouse


Pre-match favorites Sandwell Lions rode to victory on Saturday 15th May in the Under 16 Club Championships held at Wednesfield's Ashmore Park track. Pete Dally's young team rode superbly but they didn't have things all their own way were pushed hard all match by both Poole and Stockport. Fourth placed Newport, who rode a great semi-final thoroughly deserved their place in the final four but found the opposition a little too strong on the day.
Sandwell got off to a great start taking the first two heats with strong rides from both Scott Millward and Matt Haddock but Stockport were having none of it and Jack Lush took a fine win in heat three from Sandwell's Jim Palmer. Close racing from both Dylan Radcliffe and Ricky Johnson tussling for a win heat heat four saw the Stockport lad Radcliffe take the four points from Johnson. Heat five saw a tactical substitution from Sandwell, Ricki Johnson being substituted for Matt Smith who rode off grid four and wasn't troubled again, leaving the opposition to fight it out for the remaining points.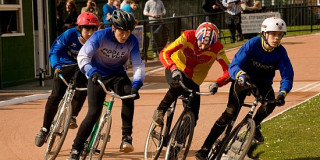 Poole started to regroup in the second four and riding off grid one saw the Dorset side take two heat wins from Aaron Morgan and Leyton Glover. Stockport seemed out of sorts riding from grids three until heat eight with a steadying win from Dylan Radcliffe, which saw the Stockport side go into the interval holding on to second spot one point over Poole on twenty one points while Sandwell had twenty six points and Newport adrift on thirteen.
The heat after the interval usually produces fireworks and heat nine saw a first bend crash from Newport's Joe Lewis and referee Ralph Doughty calling all four riders back to the grid for a re run which saw Stockport's Matt Lush crash on the back straight. With Dean Hock taking his first win of the day, Poole leapfrogged Stockport to take second place. Poole upped their game riding from grid two and with three heat wins from the third group of four, Pete Barnes' side nipped away at Sandwell's lead and by heat eleven were only two points behind. However a clever substitution in heat twelve by Sandwell saw Matt Smith (again) take four points and with Poole's Matt Mildon slipping on the third lap to trail in last the Sandwell rider knew his win was probably the match winner.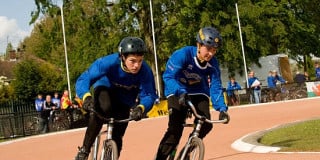 A stoppage in heat thirteen due to a crash between Stockport's Matt Lush and Poole's Leyton Glover saw the heat awarded to the Poole rider and Lush being excluded for the cause of the stoppage, a decision the camera would show otherwise but Sandwell had probably done enough at that point to take the trophy. Two second places from Sandwell's Scott Millward and Matt Haddock in the final two heats were enough to take the title the short distance back home.
RESULTS

Final
Sandwell 49
Matt Smith 15, Scott Millward 13, Matt Haddock 10, Jim Palmer 7, Ricky Johnson 4
Poole 42
Leyton Glover 13, Arron Morgan 10, Matt Mildon 9, Dean Hook 9, Harry Boucher 1
Stockport 38
Dylan Radcliffe 14, Jack Lush 12, Matt Lush 6, Jake Read 6, Matt Turner dnr
Newport 30
Jack Harrold 9, Oli Sidwick 7, Joe Lewis 7, Ryan Evans 6, Jacob Soper 1
Semi Final A
Poole 61
Arron Morgan 16, Leyton Glover 12, Matt Mildon 11, Dean Hook 11, Harry Boucher 11
Newport 40
Jack Harrold 13, Joe Lewis 11, Ryan Evans 9, Oli Sidwick 7, Jacob Soper 0.
Ipswich 36
Will Clarke 11, Charlie Rumbold 10, Louis Roberts 9, Richard Felgate 3, Daniel
Knights 3
Sheffield 20
Aden Owen 8, Liam Webster 6, Kyle Brough 3, James Unwin 2, Jamie Langton 1
Semi Final B
Sandwell 56
Scott Millward 16, Matt Smith 12, Matt Haddock 11, Jim Palmer 9, Ricky Johnson 8
Stockport 50
Dylan Radcliffe 16, Matt Lush 13, Jack Lush 13, Jake Read 7, Matt Turner 1
Horspath 44
Jack Smith 14, Matt Coulter 13, Lee Clarke 9, Zak Payne 6, Jordan Richardson 2
Wednesfield 25
Reanna Brindley 8, Jordon Holdcroft 7, Mikey Bassi 4, Maxim Ballinsky 4, Troy Allen 2
Exeter 22
Sam Dart 8, Aaron Coles 6, Correy Heyde 3, Jamie Lovering 3, Matt Trechmann 2