---
John from Nottingham has retired his MTB into commuting duties and finds that it works a treat. Why does John go by bike? "Commuting stops me acting like a big grumpy dog".

Above: John looks happy on his commute - and why shouldn't he? He commutes by bike.

Name: John Stevenson
Workplace: British Geological Survey, Nottingham
Tell us about your commuting rig: I ride a 'retired' Cannondale mountain bike, made oh so lighter, with some On One rigid steel forks. Its Continental Town and Country tyres are quick on the road, but also cope with muddy bridleway. My disc brakes are so squeaky I've no need for a bell.
What's your commute like? I ride an eight mile circular route; inbound via a flattish main road and then a 50 m 'climb' up to the dizzy heights of Keyworth. The return journey home includes two miles of bridleway; filthy in the winter but beautiful in the summer, especially during harvest time. After years of almost weekly punctures, I now ride with slime-filled inner tubes and leave my tyre levers at home with confidence.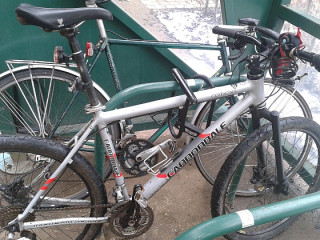 Above: Stevenson's commuting rocket - aka his Cannondale MTB, honed for mixed surface commuting with a rigid fork and big slick tyres.
How many days a week do you commute by bike? Five days a week barring injury/accidents, school plays and away days.
What do you enjoy the most about bike commuting? It wakes me up! I find it really hard to get going at the weekend if I've not been out for a ride first thing.
What's your least favourite thing about commuting by bike? The washing that it creates; of me, the bike and least of all my clothes i.e. several showers a day, three changes of clothes a day and more bike maintenance time than my wife would like!
What are your main reasons to commute by bike? Commuting stops me acting like a big grumpy dog that doesn't get enough exercise and it saves a fortune on slippers and squeaky toys.
Have you got any funny or interesting bike commuting stories or experiences to share? I was recently bitten on the leg by a rather angry bulldog, but that was because I was riding a Specialized at the time, I think. (We didn't think that canines had brand preferences for anything other than dogfood! Ed)
What's your killer commuting tip? Double up all your clothes for winter: silk gloves + winter gloves, sealskin socks + overshoes, 2-3 'buffs to cover' your head and neck + helmet, bib longs + over trousers; you get the picture. I get hot on the way to work, not cold.
---
Send us your Commuter Profiles!
We want to know about your commuting experiences; how far you go, why you choose to ride, your killer tips and your commuter grumbles. Download, complete and email back your commuter profile to editor@britishcycling.org.uk and tell your story. Feel free to include a photograph/photographs of you and your trusty commuting bike!
Download Commuter Profile Form (Word Document)
---