First Available Course: March 4th and 5th, Location TBC
/
---
Following two years of development, the staging of a pilot brings the completion of British Cycling's coaching pathway one step closer, with all six disciplines now available at Level 2.
The pilot two-day course was delivered at Thornbridge Outdoor Centre in Derbyshire last month following an extensive process of design, creation and implementation, involving leading experts from the world of cyclo-cross. The aim of the Level 2 Award is to provide coaches with the skills, knowledge and confidence to improve and develop technical performance of riders both new to cyclo-cross and those competing domestically.
The expertise that has been used to develop the course content was evident in the delivery, with Olympic Talent Development Coach Simon Watts and multiple National Cyclo-cross Champion Nick Craig teaming up to tutor the pilot course. Their candidates included notable names from the cyclo-cross scene such as former Great Britain Team Manager and current UCI Technical Delegate Simon Burney, former national champion and current National Commissaire Julian Gould and former elite rider and current Olympic Talent Coach Stuart Blunt.
Video: Nick Craig, Simon Watts & Michael Vickers talk about the award
Level 2 Cyclo-Cross Award from British Cycling on Vimeo.
The candidates undertook two days training, with discussions ranging from what makes cyclo-cross unique, to assessing rider position and the compilation of intricate details which form individual techniques. They also undertook the practical delivery of coaching sessions in order to learn how to improve a rider's skill-base and develop technical proficiency.
With feedback received from the two-day course, the task at hand now for Simon, Nick and the Coach Education team is to tweak the content and delivery ahead of the first public course, which is scheduled for the 4th and 5th of March, although a location is yet to be confirmed.
"I believe this Cyclo-cross course could have a major impact on club coaching sessions up and down the country," said Simon Watts. "I hope this award will empower more clubs and coaches to be able to promote fantastic sessions. I also hope it will support those that are already active with a forum to share ideas, techniques and tools to continue to develop their sessions and riders.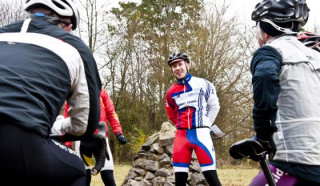 "I genuinely believe we aren't that far from being internationally competitive in the male categories and could potentially dominate in the Elite women's at World level, and it's technical skills where we need to close the gap. I hope in years to come, sessions that come off the back of this course will give birth to riders with the technical knowledge and ability to compete on a World level. It's not only cross that will benefit, if we look at how many riders currently on Olympic Programmes currently started in cross."
The course handbook has also received expert input, with the likes of Simon Burney, Nick Craig, former elite rider Matt Ellis and UCI Commissaire Ian Poole all contributing to a world-leading resource which assesses and outlines each of the key techniques of cyclo-cross and a model for progression.
The first public course is due to run on 4th and 5th March 2013. If you would like to register your interest in attending the first ever Level 2 Cyclo-cross Coaching Award and are already qualified at Level 2, please fill out an application form: word file
---
We believe effective coaching is at the heart of cycling performance at every level of the sport.
Whether you want to teach core bike-handling skills to future generations of riders, learn more detailed riding knowledge to benefit yourself and your local club or have aspirations to mentor Great Britain's elite, British Cycling has a coaching course that will help you to achieve your goals.
In order to provide a comprehensive learning process, British Cycling coaching courses are delivered via a combination of contact time, written coursework, online learning and practical assessment so if you would like to learn more about coaching, please take a look at our Awards Overview page, which has all the information you need to get started.
---
News and updates from the Coaching Team at British Cycling can also be found via our Twitter account