British Cycling's BMX Talent Team Visit National Cycling Centre
---
Three weeks on from the official launch of the National Cycling Centre's BMX track, British Cycling's Talent Team visited and trained in the new facility for the first time. What follows are their first impressions of the building, track and what is means for the sport.
British Cycling's BMX Olympic Development coach, Jeremy Hayes
"It's a great facility, I still pinch myself when I walk in here and see what there is to use. The track is bedding in nicely, Darren is here every day maintaining the track and it is getting better and better all the time. We have the first race here on Sunday and we just need to see how it works in a race situation so that will be really positive.
"It means we can train all year round. Beofre, the weather has been such a negative element, we have snow and ice on the tracks, the wind the rain, it has been horrendous for us to do this the last few years. We won't have to battle the elements any more.
"We also have a supercross start hill - we've been to races before where our riders haven't had any practise on them, but now it will be second nature to the riders to drive from the start down the hill and into the big jumps, which we also have here. Soon it will be nothing for them, instead of just going to a race and getting used to it, they can go and be aggressive on the gate and compete with the other riders; it will be just like riding at home. It has been a massive step forward and you'll see a huge jump in performance."
British Cycling Talent Team rider, Ben Clarkson
"First impressions; it is a lot bigger than anything I've ridden before, the start hill is ten times scarier, but everything is good to practice on. It's challenging for everyone, I really like it, it's good fun. To have this here, it means a lot. You have to go abroad to have an indoor supercross track, so to have it a few hours away in the car, it's really good, I'll definitely be using it regularly, I'll be booking my own sessions. "
British Cycling Talent Team rider, Ayesha McLelland
"It's really awesome to have something indoors, to keep out of the rain in the winter. There's two start hills, one is supercross with a pro gate, you can't really ask for better, it's so good for us to train here. I found the track pretty scary at first but I think once you get over that then you can adjust to the size of things and the speed of the start hill it's fine. It's definitely worth the four hour trip to come and train at a facility like this, it's the only one like it in the country."
British Cycling Talent Team rider, Charlotte Green
"I really like it, I'm really excited, like a six year old going round! It's a good learning curve. It's my first time on a supercross hill, but I was too excited to worry about it being scary, I just went for it. I'm going to be using this as much as I can. It's a big help because obviously you've got all the tracks in Europe that are so big, it's good for practise and getting up to the standard.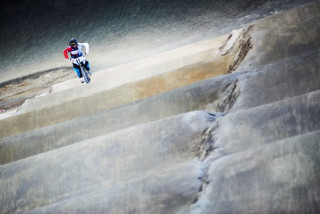 British Cycling Talent Team rider, Jacob Roberts
"When you first walk in it's pretty major, it's big. You have an impression of what it's going to be from a European round, but you don't think there's going to be an eight metre hill in here and a five metre one and a pro section! The track is bedding in hard now, it's riding quick, and we're having a good time. When I saw it, it looked quite smooth, all those complaints about it being soft aren't true."
British Cycling Talent Team rider, Quillan Isidore
"Yesterday I saw the track and I was quite surprised; I didn't think it would turn out this good. It's a lot bigger than it looks in the videos, and then riding it, it's a hundred times better. I had to get used to it a bit, then going down the start hill for the first time was pretty amazing. Looking at it, it looks so much scarier and the jumps look much bigger, but when you take off and jump and ride it, it rides much better, it's smooth, pretty firm and the jumps are all good. It will be good to race on it, the first and last corners are tight but yeah it should be good."