2012 British Cycling Annual Meeting of National Council
Saturday 17 November 2012 | Crewe Hall, Cheshire |
---
The 2012 British Cycling Annual Meeting of National Council began with a minute's silence for members who have passed away in the past year, including Don Povall and Tommy Godwin. Chief Executive Ian Drake and President Brian Cookson then gave opening presentations.
British Cycling's 2012-13 Executive Board: Left to right: Anthony Barry, Bob Howden, Charlie Jackson, Dr George Gilbert, Brian Cookson OBE Executive Board President, Colin Docker, Richard Kennedy, Alasdair MacLennan and Bill Owen
Chief Executive's Presentation:
Chief Executive's Presentation - National Council 2012 Download (pdf)
British Cycling's Chief Executive, Ian Drake, began by reviewing the previous four years, initially referencing the remarkable statistics the sport has thrown up in the current year: twelve Olympic medals twenty-two Paralympic medals; passing the 60,000 members mark; and the country's first Tour de France winner. He directly linked all this success with the "key work done by volunteers who make the sport happen." He added that all the success is "a direct result of their hard work."
Elite Success
Looking at Elite success in more detail, Ian pointed out that no one expected us to repeat our Beijing success. As well as that challenge, we also set out to win the Tour de France with Sky through the creation of Team Sky. This produced some criticism, with some suggesting that it would not be possible to combine both goals. Yet, we managed to dominate cycling in London 2012 only a couple of weeks after Team Sky rider Bradley Wiggins winning that historic first Tour de France for a British rider.
Participation
Reviewing the growth in participation in cycling in the last four years, Ian pointed out that the country as a whole now had 155,400 people more people cycling once a week (Ref: Sport England's Active People Survey). Meanwhile, working with Sky, a joint aim – to get 1m more people cycling at least once a month - was achieved during the summer this year, ahead of schedule.
Turning to active members of the organisation, Ian reported that the last four years have also seen a 136% growth in membership and 50% increase in licence holders, meaning that we are now the fastest growing governing body by far with, currently, 48% year-on-year membership growth.
The organisation has not yet reached its ambitious 100,000 membership target, but we expect the four year cycle to end with membership on or around the about 70,000 mark (compared with 24,000 four years ago).
Looking specifically at organised cycling, there's been a 29% growth in competitive and 145% growth in non-competitive events under the British Cycling banner in the last four years. This growth has been underpinned by 11 new facilities and 9 major improvements at facilities.
British Cycling's Development and Coaching programmes have seen 367,000 opporunties for young people to become involved in the Go-Ride programme and 2,300 new coaches trained, whilst Sky Ride has seen 647,000 people involved in Sky Ride City events and 39,000 at Local rides. Almost 3,000 ride leaders have been trained to support Sky Ride.
Connecting Elite Success and Grass-Roots Participation
Ian also noted that we are the first sport to show a link can be created between elite success and a growth in grass-roots participation.
Governance
Ian completed his review of the previous four years with a look at corporate governance. He noted that key work had been done in safeguarding/child protection, equality standards and also in finance in the preceding four years.
2013-17 Objectives
Ian then moved his focus to the next four years. He emphasised the need to continue to grow the membership. The organisation has vastly more lobbying power with 60,000 members than it had with 15,000 members back in 2005 and it's expected that British Cycling will become the biggest cycling body in the UK within the next few months. Ian highlighted the work on campaigning the organisation is now doing and how the growing membership is giving this work extra leverage at government level.
Overviewing the next four year funding cycle, Ian said the broad aim is to grow opportunities for people to ride their bikes, both competitive and non-competitive, against a backdrop of some key, funding linked, targets. These include:
- Further 100,000 increase measured by the Active People Survey
- 100,000 new participants in Go-Ride
- 33 new traffic free facilities
- 5% year-on-year growth in cycle sport events
- Hosting 12 major international events
- 675,000 new participants in recreational events
Returning to membership growth, Ian said that the first aim was to achieving and then sustaining 100,000, but he added that there was clearly with potential for further growth given the numbers of people now showing an interest in cycling.
Ian then turned to the "delivery" of British Cycling's plans for the next four years. Amongst the key points were the continued development of Regional cycling plans; more focus on traffic-free facilities and continued underpinning of the sport through more coaches, organiser and commissaire support, and more support for disability cycling in the regions..
Ian concluded by saying that the main message is that we need to continue to deliver: British Cycling has yet to fail to achieve targets set by funding bodies. However, he added that British Cycling's growth also needed to become sustainable to ensure we can continute to deliver international success and growth in all forms of cycling for decades to come.
Ian then handed over to Brian Cookson, the organisation's President.
President's Presentation
British Cycling's President, Brian Cookson, opened by noting that we are now living in a "golden era" of British cycling and he too offered his thanks to all the volunteers who have contributes to making the sport what it is today.
Turning to the core of his presentation, he spelled out that the organisation has grown massively, not just in members, but in resources – growth from £1 million to £20 million in annual turnover and from less than 20 to over 200 full-time staff in 15 years. He said that, "we share with our funding bodies the need to evolve the democratic structures to reflect the changing nature of the organisation."
Brian then introduced a series of proposed structural changes to the organisation's Board. These will be taken to next year's national council for approval. The aim of the changes will be to broaden and strengthen the Board with an additional goal of at least 25% female representation on the Board by 2017. The proposed structure would be as follows:
President – annually elected11 members (up 1), 7 elected, 3 independent (currently 10, all elected) Elected Board Members – with up to 3 terms of 3 yearsIndependent Board Members – with up to 3 terms of 3 years
---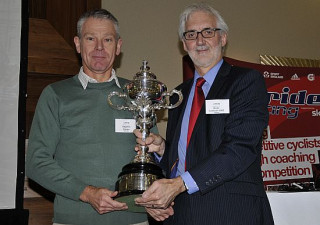 Stephen Davies (left) accepts the award for regional membership growth on behalf of the NE Region from British Cycling President, Brian Cookson
The Meeting
Other key outcomes of the 2012 British Cycling Annual Meeting of National Council included the following:
Membership Growth Award: The trophy was awarded to the NE Region.
The organisation's Gold Badge of Honour was awarded to John Rawnsley and Doug Dailey. These will be presented at the organisation's annual award dinner early in 2013. Detailed testimonials accompanied their nominations and make interesting and inspiring reading.
Elections
President - Brian Cookson OBE (North West Region) was elected to serve for another year
Members of the Board (to serve for 3 years) - Alasdair MacLennan (Scottish Cyclists' Union) and Richard Kennedy (East Midlands Region) were elected to the two vacancies on the Board. Thanks was offered by Brian Cookson to Ian Sinclair who was standing down after a number of years service on the board.
Membership Subscriptions
The following updated list of fees was approved.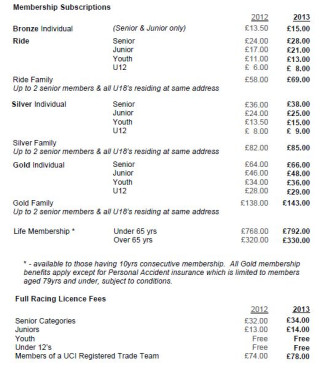 The meeting concluded at 12.45.
Reaction: Brian Cookson
After the meeting, British Cycling's President, Brian Cookson, summed up his reaction to the day's events: "We were joined today by some highly enthusiastic and committed delegates who are working really hard for our sport all around the country. We heard that participation numbers are up across the board and we heard that performance at elite level is at a standard we could never have anticipated or hoped for in our wildest dreams.
But I think there was also a sense that we are in no way complacent. We are constantly looking at areas we can improve our delivery, improve our governance and we are always seeking ways to improve the sport.
I believe that, because we've got robust systems and structures in place and great people working tirelessly for the good of cycling all across the country, British Cycling is in the best health it's ever been in."