---
Go-Ride club Richardsons CC held the 5th Round of the Scarborough Youth Mountain Bike Championship at Dalby Forest on Sunday 30th September.
Over 40 riders ranging from under 8s to under 16s turned up for the Go-Ride Racing event, which used part of the World Cup Mountain bike track and was fast and flowing with a short section of mud following the earlier rains as well as a flat out sprint track across Adderstone Field.
As a warm up, club coaches Mark Grange and Dave Simpson split the group and ran sessions on starts, cornering and gears to enable the youngsters to get the most out of their bikes. Riders were then given a practice lap of the track.
There was an excellent turn out of riders from clubs across the region - riders had travelled from Holmfirth, Leeds, York, Guisborough as well as locals from Scarborough, Filey and Pickering.
The Races
Under 8s
With 19 riders, (including four under 6 years olds) they were undaunted by the track and the mud and they all made it round with first place taken by Oska Stringer from Hunmanby and second Oscar Taylor. Oska Stringer then took first place on the 200m sprint race over Adderstone Field absolutely flying across the grass.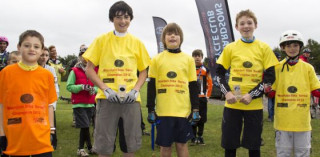 Under 10s
The under 10s were dominated by Holmfirth rider Sam Barrans who made the trip over worthwhile, with three wins on the day. Mathew Dingwall- Melcher took 2nd place with Richardsons CC rider Megan Simpson from Filey getting 4th and first girl.
Under 12s
Fileys Caven Walker took 1st on all three races with Richardsons CC member Bailey Thornton and Bridlington's Reuben Allanson (RCC) fighting for the places.
Under 14s and Under 16s
The Under 14s races were won by York rider Oliver Lee and the Under 16s was closely scrapped between Marcus Archer and Andy Hume. Gristhorpes Archer took the first places from Scalby teenager Hume following a three lap final battle.
A short prize presentation at the end ensued also the series championship presentation was carried out with the winners getting wooden trophys and in true cycling tradition yellow jersey t-shirts were presented.
This has been the first year Richardsons Cycle Club have run a British Cycling Go Ride Racing youth series and it seems to have been well received with Dalby Forest providing a fitting finale.
See Richardsons CC website or contact event organiser Bryden Simpson on 01723 513773 for more info.
---