Charlotte Worthington and Shaun Gornall claimed wins at Junction 4 Urban Sports Village over the weekend in the third round of the National BMX Freestyle Series, presented by Backyard Jam.
Originally set to be the BMX Freestyle National Championships, the event had to be reduced to a National Series after heavy downpour meant much of the park was unsafe to ride as the BMX community rallied around to ensure an incredible weekend of non-stop action.
The outdoor park at Junction 4 has a roof over and is set up to handle some bad weather, but with torrential flooding meaning much of the course was unfit for a National Championships, the riders still managed to pull off some incredible performances to take National Series titles.
Women's Elite Park
With the series leader Sasha Pardoe out of competition due to injury, and Olympic gold medalist, Charlotte Worthington returning to competition, the stage was set for a great contest.
The experience of Worthington shone bright, getting to grips with the reduced course very quickly. She put together two flawless runs, tricking almost every hit and landing her a comfortable victory.
The closest battle was for second place, between Holly Pipe and Elsa Rendall Todd. Todd rode smooth and fast to secure two clean runs, including high back flips and a perfectly executed no foot can one hander to finish in second place.
Pipe had an incredible first run, finishing off with a hand plant on the vert wall, a new trick for Pipe and a hit with all the riders watching on. Pipe's second run unfortunately didn't go as planned, resulting in a lower score but still enough to finish on the podium for third place.
Emma Finnegan came in fourth place after three years away from BMX park competition, and showed promising signs of potential to pin her as one to watch at the next round of the series.
Men's Elite Park
With the National Series leader Kieran Reilly and Olympic medallist Declan Brooks in the USA for the Xgames, the door was wide open for a first time series winner as 18 of the UK's finest park riders put on an incredible show.
Great Britain Cycling Team's Shaun Gornall took the win after two perfect runs. Gornall showed the biggest variety of tricks, spinning both ways, and performed with great style to land extremely difficult tricks. This is his first win after a long streak of bad luck in a perfect lead up to the UCI Cycling World Championships in Glasgow next week.
Dylan Hessey took home another second place for the series, having nailed some incredibly technical and difficult tricks, including a 360 quad bar spin, a back flip bar spin to tail whip and a back flip triple bar spin.
Jack Watts had an average first run by his standards, but then came out swinging for run two to land a 1080 and a 720 bar spin to boost his overall score and get onto the podium.
Jude Jones held a little back, but his runs were still enough to grab fourth place while Kaine Mitchell put down some of his best riding of the year to land him in fifth.
Sixth place went to surprise entry, Jordan Clark, with the five-time scooter world champion proving he can clearly destroy anything with wheels.
Elite Street
The outdoor street course at Junction 4 is one of the best in the world, and it was a massive blow when the elite street was moved indoors. The riders had plans of their own though, and managed to put on some of the best street runs and best tricks ever seen at a Backyard Jam.
The level of riding started off high and steadily increased through the competition. Stuart Chisholm, Joe Jarvis, Alex Kennedy and Sam Jones were on a level above the rest.
Chisholm narrowly missed out on the podium but received a huge amount of support and respect from the spectators and fellow riders. Alex Kennedy achieved another third place and moves into the lead of the overall National Series rankings.
Jarvis had the best run scores of the day, but Sam Jones took the top spot by laying down a hard 360 gap to crooked grind – a ridiculous move to do in competition.
Jones, who works at Junction 4, was a fan favourite and received the biggest applause of the day.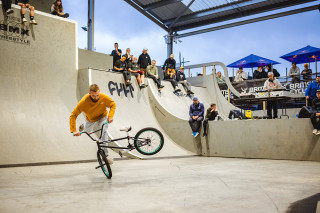 Flatland
Saturday night finished on a high with British Cycling putting on our first officially sanctioned BMX Flatland National Championships. World famous DJ Woody provided some great music to elevate the event and create a party atmosphere.
The competition was intense as some of these riders have not competed against each other in many years.
Lee Musselwhite and Matti Hemmings were streaks above the rest and the battle for the jersey went down to the wire.
Hemmings took the win with a flawless routine, combining original tricks such as his ankle death no handed hang five, and unique twist on the hook spin on the back wheel. Musselwhite made a small error coming off his signature spider glide and dropping the front wheel on his backwards no footed backyard. James White rounded off the podium.