Ben Marsh crowned junior winner in the first round of the Junior Men's National Road Series at Melton Mowbray's ANEXO/CAMS CiCLE Classic.
Ben Marsh (BCC Race Team) made the perfect start to the season as he took a convincing sprint victory ahead of Jacob Bush (MAS Design-Fenshaw Howes) and Sebastian Grindley (RTD-JsCycleShack) at the end of 105km of testing terrain.
The junior men experienced the worst weather of the day, with rain ensuring the infamous gravel sections on the route were wet and muddy.
The second-year junior was part of a three-rider breakaway that dominated the race. Bush was first to move, taking Marsh with him after the ascent of the Somerberg around the 65km mark.
A small chasing group formed, and Grindley saw an opportunity. As the current national cyclo-cross champion, he took on the soaking gravel sectors with ease and bridged across on his own to complete a strong move at the head of the race.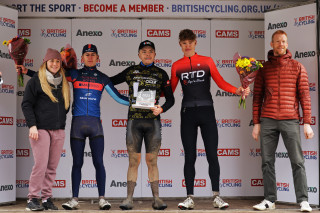 The trio worked well together on the finishing circuit and having consolidated their lead, they came into Melton Mowbray with plenty of time to spare for a thrilling sprint. Marsh powered through the centre to win by half a bike length, and be crowned the champion by Ed Clancy and Laura Kenny on the podium.
Marsh's win also means he takes the lead in the Junior Men's National Road Series.
Round two of the series will take place over the weekend of 28-30 April, with the junior men ready to tackle the Sleepwell Hotels Isle of Man Youth and Junior Tour.