The Derby Arena hosted this year's National Youth Omnium Championships this weekend, with victories for Aelwen Davies, Alex Coles, Lucy Glover and Sam Fisher.
In a packed day of racing, competition was split across four categories, with riders going head-to-head in four events: the time-trial, scratch race, elimination race and points race. Unfortunately the planned fifth event – the keirin – was cancelled due to a crash in the Youth A Girls scratch race. Thanks go to the Commissaires, medics and others who were so quick to assist the impacted riders.
Youth B Girls
In the Youth B Girls category, Aelwen Davies took a dominant early lead, winning both the time-trial and scratch race. However, Anna Lloyd fought hard in the elimination race to take the win, leaving just four points separating first and second place going into the decisive points race.
Davies then showed her strength once more, winning three of the six sprints to take a comfortable first place, followed by Lloyd in second and Phoebe Taylor in third.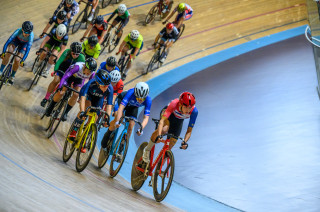 Youth B Boys
The Youth B Boys field saw Alex Coles take an early lead, winning both the time-trial and elimination race. While Albie Jones performed well to build up his points total over the first three races, Coles stayed focused to take the win in the points race and claimed the overall victory, followed by Jones in second and Oliver Tregear in third.
Youth A Girls
In the Youth A Girls category, Carys Lloyd dominated in the first three races, and went into the points race eight points ahead of Lucy Glover in second. Glover took the first sprint in the points race but the title was still up for grabs as the race entered in final lap, where Glover took double points for the final sprint to secure the overall title by just two points. Lloyd took second place overall, with Cat Ferguson third.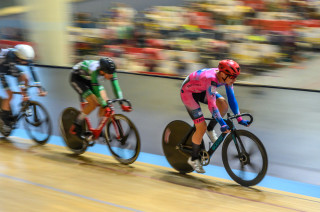 Youth A Boys
The Youth A Boys category was the final one to be decided on the day, with Sam Fisher going into the final points race with a commanding 16-point lead over his rivals.
However, William Salter and Denholm Edwards were neck-and-neck behind him on 96 points each going into the final race, and Salter battled hard to bridge the gap. Despite him taking the 10 points on offer for the final sprint, Fisher just held on to take the overall title by a single point. Edwards took third place overall.