The Great Britain Cycling Team took their first medals of the 2022 European Championships on the track in Munich, with scratch race silver for Jess Roberts and bronze medals in the men's team pursuit and men's team sprint.
Earlier in the day Olympic champion Charlotte Worthington was unfortunate to crash out of the women's BMX freestyle competition at the Olympiapark, while 16-year-old debutant Sasha Pardoe bettered her excellent qualifying performance to take sixth place.
Track
Roberts lined up for the women's scratch race having already endured two gruelling rounds of team pursuit earlier in the day, but looked composed in what was a tight race throughout. As the race entered its final laps she found herself in a strong position at the front of the bunch, and led confidently with three laps to go as a small group established a gap.
A phenomenal acceleration on the sound of the bell saw Norway's Anita Stenberg go past Roberts with just 100m of the 10km race to go, however she displayed great grit and resilience and held off Poland's Nikola Wielowska to secure silver. The silver medal represents a remarkable comeback for the Welsh rider, following an injury-hit two years and a five-month break from the sport in 2021.
Afterwards, she said:
"To be on a podium again is really special for me. I've had a bit of a rough two years, a bit of injury and struggling mentally, so last year I took five months completely off the bike and took a break away from everything. I did rehab, worked on my mental health, and I feel like it was the best thing I could have done.
"I feel like I'm in a much better place now, I've worked really hard to get back to this level, and hopefully I can keep pushing back to the highest level. I think there's more to come – I'm not quite back to where I was before, but I'm just enjoying riding my bike, enjoying the process, and just really happy to be back on the podium."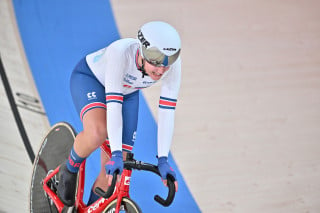 The men's team pursuit team of Rhys Britton, Kian Emadi, Charlie Tanfield and Ollie Wood qualified fourth fastest yesterday in a time of 3:55.998, setting up a first round ride against fastest qualifiers France. Will Tidball replaced Emadi, and despite being beaten by France their time of 3:55.413 was quick enough to set up a bronze medal ride against Germany.
Despite a buoyant home crowd the Great Britain quartet – with Emadi back in the line-up for Tidball – started strongly and soon had the German's in their sights on the shorter track. They didn't let up for a single lap of the 4,000m, and deservedly took the medal in a time of 3:54.373.
Speaking afterwards, Tanfield said:
"I could see them out of the corner of my eye and I was like 'hold them off', and we managed to keep them at bay at the end. I'm really happy with the team performance and we pulled it together at the end to get a bronze which is positive.
"We'd come in with an open mindset – we weren't expecting anything to be honest. It's a new lineup for the four guys we had in this competition, so anything was a bonus podium-wise. We gelled quickly on this track, which is pretty mad!"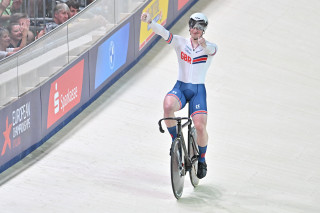 The men's team sprint trio of Jack Carlin, Ali Fielding and Hamish Turnbull qualified second fastest yesterday in 35.638, setting up a first round ride against Spain today. They then progressed comfortably to set up a bronze medal ride against Poland later in the day – only missing out on a shot at the gold medal by the slenderest of margins.
Another powerful ride in the final saw them take another bronze for Great Britain, with their time of 35.173 also their quickest of the competition.
In the women's team pursuit, the team of Neah Evans, Josie Knight, Anna Morris and Jess Roberts were beaten by world and Olympic champions Germany, but their time of 4:18.455 – more than a second quicker than in yesterday's qualifying – was good enough to secure a bronze medal ride later in the day against France. However despite another strong ride the French proved too strong, leaving the new-look Great Britain Cycling Team quartet with fourth place.
After qualifying fourth fastest yesterday, an unfortunate crash in the women's team sprint first round saw Sophie Capewell and Emma Finucane both hit the track heavily. Emma and Sophie were treated by the Great Britain Cycling Team medical staff in the venue and thankfully neither sustained any serious injuries. In the final event of the evening, Will Tidball finished 18th in an electric points race.
BMX Freestyle
Olympic champion Charlotte Worthington delivered two flawless runs in yesterday's qualifying, topping the standings with an average score of 82.30. After crashing in the first of her two runs in the final, Charlotte displayed incredible bravery in attempting the same 720 in her final run, however another crash ended her competition and saw the European title go to the Czech Republic's Iveta Miculyčová.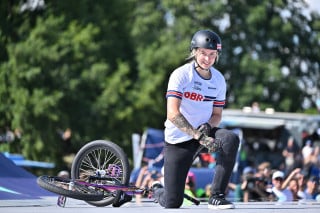 A brilliant qualifying round saw 16-year-old Sasha Pardoe also qualify for the final – in what was her first international competition and Great Britain Cycling Team debut. Two accomplished runs saw her qualify in sixth place with an average score of 59.00, and she then bettered this in the final with a score of 64.60 for her first and strongest run, taking sixth place overall.
The event continues tomorrow with the men's BMX freestyle final, and medals in the women's 500m time-trial, women's individual pursuit, men's individual pursuit, women's elimination race and men's scratch race all up for grabs on the track.
For full results and schedule, click here.