British Cycling has today unveiled a four-week digital campaign - Take 2020 for a Ride! – to provide support, encouragement and ideas for activity during new lockdown restrictions.
The campaign has been developed to remind people of the importance of looking after their mental wellbeing, especially during the colder and darker months.
Supported by refreshed guidance on HSBC UK Let's Ride Local (which was launched in the spring as a resource for families cycling during the first lockdown), Take 2020 for a Ride! encourages people to channel any frustrations they may have into something positive – whether that is taking 30 minutes for a short bike ride, catching up with a friend or simply having a break to do nothing at all.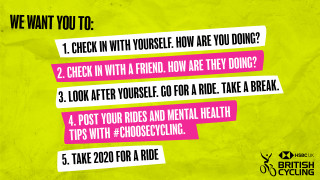 Laura Thomas, British Cycling Head of Customer Engagement, said: "With shorter days and colder weather, we would love to see people come together to let their friends and family know that a mental health boost may be just a bike ride away.
"Current restrictions mean there are lots of things we can't do together, but by taking that time out for yourself and sharing photographs of yourself out and about on rides, we can then transform our social media channels into a celebration of what we can do."
Find out more at www.letsridelocal.co.uk and share your rides with us using #ChooseCycling across Facebook, Twitter and Instagram.
Unsure about how new COVID19 restrictions affect cycling? Find out more here.