Tom Pidcock was the Great Britain Cycling Team's highest placed finisher in today's 258.2km elite men's road race on the final day of the UCI Road World Championships in Imola.
Team captain Luke Rowe, who made no secret that his team were largely there to benefit from the experience, spent the first half of the race in the peloton with Tom Pidcock, Hugh Carthy, James Shaw, James Knox and Ethan Hayter, while an early break of seven riders held approximately a six minute lead. At 100km to go, only Germany's Jonas Koch and Norway's Torstein Traeen remained at the front of the race, with peloton reducing the gap down to 4 minutes 45.
The race came back together at 69km to go, with Luke Rowe and Tom Pidcock working well together in the front of the peloton. It was the French team who then took the race on, before the Belgian team gathered in force at the front.
Luke Rowe went to the front with 50km to go, fulfilling a brilliant support role for the 21-year-old Tom Pidcock, setting him up for the smaller of the two climbs with James Knox also in the peloton. The recently crowned Tour de France champion Tadej Pogacar attacked on the penultimate big climb up the Cima Gallisterna, forcing the Belgian team to chase with Tom Pidcock still in the group.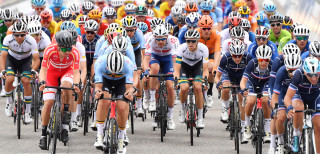 Going into the final lap, Pogacar had forged himself a 25 second lead, but the final 25km were action packed with the race favourites battling it out on the climbs. Having performed a sterling duty for his teammate Tom, Luke left the race with a lap to go. Tom produced a gallant effort out on his own, finishing in 42nd place - a promising result for the under-23 rider.
Frenchman Julian Alaphillipe claimed the rainbow jersey, with Wout van Aert from Belgium and Marc Hirschi from Switzerland completing the podium.
Post-race, Tom Pidcock said: "There was no result, but we learnt a lot – I certainly learnt a lot. I didn't have any sort of legs to be able to race at the end but I think that was to be expected."
Speaking of Tom's performance, Luke said: "For a young lad to go to the (elite) world championships which is 270km and to blow up after 250km, there's no shame in that.
"Like I've said before, I was being realistic that this is a team for the future, and I think he can be proud of what he's achieved there. He's tested himself today, he rode 250k into the bike race and exploded and to that point he did everything right. My job was to stay with him for as long as possible, to nurse him round and conserve all the energy I could for him, and I think we worked well together."