It was a sixth-place finish for the Great Britain Cycling Team's Lizzie Deignan in the elite women's road race at the UCI Road World Championships in Imola today, following an excellent display of teamwork from all the British riders.
The race began with a bike change for Lizzy Banks following a crash in the neutral zone, but once the race was underway, Hannah Barnes, Anna Shackley and Anna Henderson could all be seen working on the front for Lizzie Deignan.
With 107.5km to go, the Belgian rider Valeria Demey made an attack, but the peloton remained relaxed, allowing Demey to remain off the front for 10km before being caught. Canada's Alison Jackson was the next to make an attack at 94km to go, with Australia's Grace Brown catching her at the front of the race.
Sisters Alice and Hannah Barnes made it into the breakaway of eleven riders which USA's Taylor Wiles initiated at the 85km to go mark, leaving Anna Henderson with Lizzie Deignan at the front of the peloton. At the halfway point, Hannah remained at the front of the race, with Alice now back in the peloton with the rest of the British riders plus the race favourites, 1 minute 23 behind the front of the race.
With two laps to go, Hannah was looking comfortable in the lead group, while the race favourites started to position themselves at the front of the peloton 2 minutes 28 behind. The pace of the peloton picked up with Dutch rider Marianne Vos attacking on the climb to catch the front of the race, bringing riders with her including Lizzie Deignan.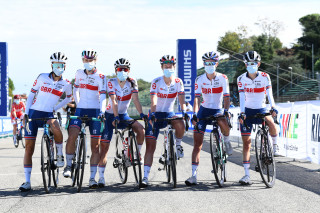 It was the fellow Dutch rider and 2019 world champion Annemiek van Vlueten, riding with a broken wrist, who then set the tempo, with Lizzie gritting her teeth to stay in contact. The recently crowned time trial champion Anna van der Breggen, also from Holland, then launched to open a gap and subsequently ride away from a strong group of four chasers, including Lizzie. Van der Breggen continued to extend her lead while the chase group rejoined the peloton at 29.6km, allowing van der Breggen over a 1 minute 40 lead going into the final lap.
Great Britain Cycling Team's Anna Shackley, who this time last year was competing at junior level, put in a huge turn at the front with Lizzie close behind, but van Vlueten and home favourite Elisa Longho Borghini broke away and worked together in the final stages of the race.
Van der Breggen became a double world champion by crossing the line in 4 hours 9.57 minutes, 1 minute 20 ahead of compatriot van Vlueten who beat Longho Borghini in the sprint for medal placings.
Speaking after the race, Lizzie said: "It was a really difficult race, a really difficult course, a bit hillier than I'd have liked, but as a team I think we rode fantastically and we came away with the best result we could have done."
Anna Shackley said: "It was a very hard race, but I enjoyed it – it was a really good experience – it was my first time racing in the elite peloton so that was very enjoyable at some points! It was a bit surreal [at the front of the peloton in the closing stages] and I was just focussing on keeping a good pace."