Bethany Shriever was left speechless after a perfect race finale saw her claim the maiden UCI BMX Supercross World Cup of her career.
The British rider was racing independently in Zolder, Belgium, but pulled out all the stops on an impeccable day of racing as consistency ruled the roost in round five of the 2018 season.
She'll be back on Sunday looking to make it two from two but she wasn't the only British competitor celebrating a place in the main event.
That came thanks to Kyle Evans, upsetting the odds to pull off two excellent performances from a tough lane eight, rewarded with fourth place ahead of tomorrow's sixth round of the series.
Shriever lost for words
Never before had Shriever stood atop the World Cup podium but the feeling took the words out of the 19-year-old's mouth once she realised her accomplishment.
Comfortable in her opening round, that feeling proved a familiar one as racing went on in Belgium, leading her 1/8 final from start to finish to take her place in the quarter-finals.
The junior world champion looked in good form throughout and so it proved with a second place next up, moving within one race of the final – knowing a top-four spot would be enough.
Riding home in third ensured there were no alarms there but the shrewd Shriever showed she still had something else left in the tank, duly unleashing her best in the final.
The junior world champion is now a World Cup winner!

Relive @bethanyshriever's superb final race showing as she made personal history in Zolder

(via @BMXLiveTV)#UCIBMXWC pic.twitter.com/i9Rc5GGcHu

— British Cycling (@BritishCycling) May 12, 2018
Powering into an early advantage, the Brit was under pressure from Judy Baauw but held on in impressive style – mentally and technically showing her skills when it mattered most.
"All I wanted to do was have fun out there and enjoy myself, and now I'm speechless," she said.
"To bring the result back is such an amazing bonus, I'm over the moon.
"I've been riding most days this week, I've got into the mode of relaxing around the track and keeping it cool so I think that helped a lot, I just kept it there and got to the finish line."
Evans on song in Zolder
It was a case of no easy lane, no problem for Evans – twice delivering from lane eight to more than earn his fourth-place finish in Zolder.
From the outset he had a battle on his hands, though he dealt with all the challenges aptly to take his place in the 1/16 finals.
But as the levels increased, so did the riding talent of the 24-year-old Rio 2016 Olympian, squeezing through to the 1/8 finals in fourth place – but the drama wasn't done there.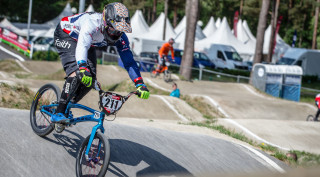 It looked as though the Brit's chances were over following a crash directly in front of him, somehow dodging the damage to reach the semi-finals.
Still he wasn't done there, defying his unfavourable draw to take third place in his semi-final, a quick start to thank for his path to the main event.
And from there one final hurrah saw Evans finish in fourth place, once again coming through the pack in an impressive display, a confidence-boosting effort heading into the sixth round of the 2018 UCI BMX Supercross World Cup, on Sunday.
Whyte battles hard as Isidore misses out
Last week had seen Quillan Isidore deliver his best World Cup performance, in Papendal, but a repeat of that fourth-place performance wasn't to be forthcoming.
After finishing in top spot from his first round, that proved the end of the line for the 21-year-old as he, Paddy Sharrock, Tre Whyte and Ross Cullen all exited in the 1/16 final.
Cullen had earlier impressed with top spot in his last chance race but was unable to progress further as he continues to gain invaluable World Cup experience.
Tre's brother Kye was one of those to progress however, qualifying in third place before a heavy crash ensued in his next outing.
He narrowly avoided the major issue but was still held up in his bid for the line, crossing in fourth before lying down at the finish line – though he was still up and ready for the next race.
And it was the 1/4 final that proved the end of his day, but he and the rest of the Great Britain Cycling Team riders will be back on Sunday as the Zolder double-header comes to an end.