A stoked Rachel Atherton celebrated her return to Mercedes-Benz UCI Mountain Bike World Cup action in near-perfect style after finishing second in her season opener in Losinj.
The four-time downhill world champion had not competed on the world cup circuit since breaking her collarbone last year, with her return to domestic racing only coming a fortnight ago.
But it was as if Atherton had never been away as she rode her way to a superb podium finish for Trek Factory Racing DH in Croatia – finishing only behind Myriam Nicole.
She was not the only Brit in the upper echelons of the competition with Tahnee Seagrave just 0.2 seconds back in third place, while Katy Curd finished in eighth in her bid for the podium.
There were also top-ten finishes for British riders in the men's competition, with Laurie Greenland and two-time downhill world champion Danny Hart battling for the podium.
Atherton back where she belongs
Yet for Atherton, just being back on the downhill circuit was an achievement in itself – out of action since last year having suffered an injury ahead of last year's World Championships in Fort William.
That's where she heads to next for the second downhill weekend, in June, but for now the 30-year-old was keen to focus on the present.
Having qualified fastest, it took something special from France's Nicole to usurp Atherton – a wonderful run seeing her stop the clock in 2:40.706.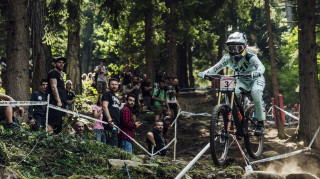 On a tough course, Atherton was just over three seconds behind overall world cup champion Nicole in Losinj, the first time this venue has hosted a downhill competition.
And barely any time at all separated the Brit and her compatriot Seagrave who finished in third, backing up the five podiums she picked up in the 2017 season.
Return to Fort William next on agenda
"I'm just so stoked to be back at the World Cups again, last year was pretty bad so I'm just happy to be back out there and in the mix," said Atherton.
"And what a place, the course is wild and I'm just so stoked for the Myriam, she deserves it and was going flat out – it's a heck of a time to put in there.
"I'm still analysing this race but Fort William is always so much fun, hopefully it doesn't end like it does last year but I'm looking forward to it."
Top-ten spots for Greenland and Hart
The men's competition also featured plenty of British interest with Greenland and Hart the standouts in another dramatic event in Croatia.
Greenland had qualified in the upper part of the field for his MS Mondraker Team and duly made the most of his pre-race form, finishing within three seconds of winner Aaron Gwin of the United States.
No course on the circuit will be as short as this one this season but at times it proved brutal as riders suffered punctures, with Greenland unfortunate to miss out on the podium – less than half a second off fifth spot in seventh.
Hart, who already has a plethora of world cup wins in his locker, did enough to secure tenth place for Madison Saracen Factory Team.
The British contingent didn't end there however as Joseph Smith, Greg Williamson and Gee Atherton all finished in the top 20 – while a junior podium came the way of Kade Edwards.
Only Thibaut Daprela was to finish quicker than the Trek Factory Racing DH rider, an ideal way to get his downhill world cup season underway ahead of a busy year.