Welsh youngster Ffion James and Belgium star Braam Merlier celebrated back-to-back victories as the HSBC UK | Cyclo-Cross National Trophy season continued with a snowy round five in Bradford.
Both riders powered clear to victory last month in Kent and put on a similar performance in very different Yorkshire conditions.
Ian Field (Hargroves-Ridley/Montezuma's) clinched the overall men's series before the final Ipswich round next month following a consistent fourth place – although the women's title is still up for grabs.
James also won the U23 race, with Calum Fernie celebrating his first win of the season in the male equivalent while Cameron Mason consolidated his series lead in the junior category with Amy Perryman winning for the junior women.
Merlier battles to win as Field does enough for title
Merlier (Steylaerts-Betfirst) came back from an early crash to ride clear of his rivals to a comfortable victory.
A dramatic start saw American rider Jeremy Durrin (Neon-Velo CT) slip on the first muddy section causing Merlier to also go down, while series leader Field also came down on the following corner.
That left under-23 series leader Billy Harding (PH-MAS Paul/Milnes) to lead the first lap as the favourites worked their way back to the front.
Durrin took control of the leading group on the second lap as Harding faded away before Merlier joined Lewis Craven (Wheelbase Altura MGD) at the front and the pairing formed a small gap ahead of Durrin with Field a little further back.
Durrin suffered misfortune after a series of crashes and bike changes allowed Field and Grant Ferguson to gap him.
Merlier eventually forced an unassailable margin over Craven and with two laps to go had a 20 seconds lead over the lone chaser with Ferguson and Field at 50 seconds.
The chasers had Craven within sight at the bell and a late surge by Rio 2016 Olympian Ferguson saw him claw up to Craven and power clear to clinch second.
A fourth place for Field was also enough for him to seal the overall series title.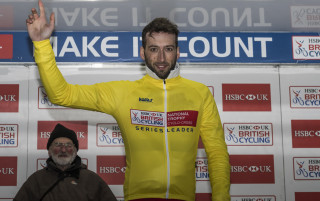 "It was very technical with the mud and the first lap was not very good but the rest of the race was better," said Merlier.
"I rode alone the last four laps which was better because I got my own rhythm then I got 20 seconds and I knew if I didn't make a mistake I would win.
"At the start somebody in front of me crashed and I also went over him and my start was not so good. After the first lap I was at the front so it was better."
In the under-23 category Calum Fernie (Nottingham Clarion CC) took his first category victory of the season with Harding keeping the leader's jersey.
James win leaves it all to play for in final round
The women's race saw James (Abergavenny RC) claw back early leader Bethany Crumpton (Storey Racing) before riding clear for victory in the later stages.
Crumpton, who leads James in the overall series, took the lead from the starting ramp and only her rival could live with her fast pace on the opening loop.
As the snow began to fall Redditch-based Crumpton powered away in the mud and edged out a gap of a few seconds after the opening lap.
Behind local rider Amira Mellor (PH-MAS Paul Milnes Cycles) led a solo battle chasing the leading two.
But, similarly to the previous round, James used her endurance to bridge back up to the leader before taking the lead with two laps to go as both riders suffered crashes in the Bradford mud.
As James took the bell her advantage had grown to 40 seconds to secure the victory while Crumpton kept hold of her leader's jersey.
Top 3 for #bradford #nationalTrophy @FfionJames97 @BethCrumpton @AmiraMellor with Beth holding onto the leaders jersey going into the final round in Ipswich #BestVersionOfYou pic.twitter.com/Zl2Ccefa4l

— Storey Racing (@StoreyRT) December 10, 2017
"Early on Beth (Crumpton) had a gap and the conditions were completely different to riding earlier in the day," said James.
"It was so much more slippy and muddy and the lines I took in practice were just not suitable for the race.
"To win again is great. The leader's jersey will come down to the last round between me and Beth. I haven't thought about it until now but I will try my best to clinch the series."
Mason refuses to give up
Series leader Mason (Leslie Bike Shop/Bikers Boutique) put in a dominant performance in the junior men's competition.
He had to do it the hard way though, battling back into the top ten after a slow start with Toby Barnes (Lichfield City CC) and Jenson Young (PH-MAS Paul Milnes/Oldfield ERT) taking second and third respectively.
Amy Perryman (Hargroves-Ridley/Montezuma's) was victorious in the junior women categoru ahead of Xan Crees (Team Empella Cyclo-Cross) and Emily Ashwood (WXC World Racing).
Riders head to Ipswich for the final round of the series on January 7 with overall titles still to be decided.
Results
Men's Elite
1. Braam Merlier (Steylaerts-Betfirst)
2. Grant Ferguson (CST American Eagle)
3. Lewis Craven (Wheelbase Altura MGD)
Women's Elite
1. Ffion James (Abergavenny RC)
2. Bethany Crumpton (Storey Racing)
3. Amira Mellor (PH-MAS Paul Milnes Cycles)
Men's U23
1. Calum Fernie (Nottingham Clarion CC)
2. Mark McGuire (100% ME)
3. Billy Harding (PH-MAS Paul/Milnes)
Women's U23
1. Ffion James (Abergavenny RC)
2. Amira Mellor (PH-MAS Paul Milnes Cycles)
3. Kara Perryman ((Hargroves-Ridley/Montezuma's)
Men's Junior
1. Cameron Mason (Leslie Bike Shop/Bikers Boutique)
2. Toby Barnes (Lichfield City CC)
3. Jenson Young (PH-MAS Paul Milnes/Oldfield ERT)
Women's Junior
1. Amy Perryman (Hargroves-Ridley/Montezuma's)
2. Xan Crees (Team Empella Cyclo-Cross)
3. Emily Ashwood (WXC World Racing)
Gallery