British Cycling has joined sports teams and governing bodies across the country in pledging their support to Stonewall's Rainbow Laces, an awareness campaign to support and celebrate LGBT inclusion in sport.
British Cycling's staff and Great Britain Cycling Team riders have all been given a pair of Rainbow Laces, while further support for the campaign has been provided with:
The design of a unique British Cycling jersey,commissioned with the support of British Cycling kit supplier, Kalas, and adorned with the Rainbow Laces colours, which will be given away on social media.
Stonewall's 'Make Sport Everyone's Game' sports toolkit distributed to British Cycling clubs and members.
Fundraising by British Cycling members of staff in support of The Proud Trust, a LGBT charity based in Manchester, home of British Cycling.
Founded in 1989, Stonewall has been at the forefront of unprecedented social and legal advancement for LGBT people living in Britain.
Working alongside other LGBT groups, Stonewall has successfully campaigned for changes in law,which include equal age of consent, protection from discrimination at work, and in 2013 securing the right for same sex couples to marry.
Statistics provided by Stonewall show that 63% of people say more should be done to make LGBT people accepted in sport while more than half of sports fans say they wish more sports players were open about their sexual orientation.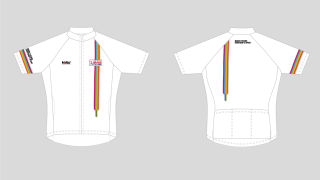 Olympic gold medallist, Callum Skinner, who is part of the Great Britain Cycling Team who will wear the laces in the build up to the UCI Track Cycling World Cup in Canada this weekend said:
"I am proud to support Stonewall in their campaign for equality. Sport should be a place for everyone, and while good progress has been made over the years there is still much to do which is why it has been great to see so many organisations and individuals getting behind the campaign this week.
"I'm very proud to wear my Rainbow Laces in solidarity with so many others."
British Cycling chief executive, Julie Harrington, added:
"British Cycling is committed to equality and to ensuring that it is embedded in all areas of our organisation.
"Like Stonewall we believe that people perform better when they can be themselves and we want to ensure that our staff come to work in a happy and inclusive environment.
"The work done by Stonewall over the last three decades has seen huge strides made for the LGBT community and I'm very pleased that British Cycling will be part of that journey in the years to come."
Former Tour de France rider, Phillipa York, said:
"I'm delighted to see British Cycling's involvement at the launch of the Rainbow Laces campaign. As one of, if not the benchmark for sporting performance and achievement this shows their commitment to expanding that excellence into the areas of inclusion and equality.
"In a modern, ever changing world their involvement with Stonewall is an indication that cycling fully intends to grasp the opportunity to make the sport welcoming for everyone."