Conference 2018 brings together Go-Ride Club volunteers and Cycle Sport officials to share their experiences, expand their network, and develop their delivery through workshops.
This year, the conference will take on an exciting new format under the banner of 'Discover, Develop, Deliver', bringing a sharp focus to the development of cycling in your region.
Previously the hugely successful HSBC UK Go-Ride conferences and Cycle Sport Commissaires Conferences took place independently in the first few months of the year, but we are joining the sporting family together this time round to share best practice, discuss the latest updates and to access interactive training.
Conference 2018 dates
South West - Saturday 3 February
Eastern - Saturday 3 February
South - Sunday 4 February
Yorkshire - Sunday 4 February
Central - Saturday 17 February
West Midlands - Sunday 18 February
South East - Saturday 24 February
North West - Saturday 24 February
East Midlands - Sunday 25 February
North East - Sunday 25 February
Six disciplines: one team
We know that volunteers undertake a huge variety of roles within sport, and nearly half have more than one role, so we have created the new-look conferences to provide a focus on joined-up working across the regional volunteer network.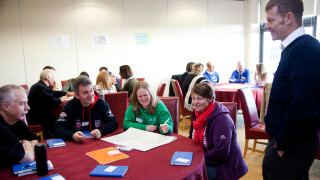 The day will provide volunteers with an understanding of the latest developments, and there will be a number of interactive workshops across the day. The morning workshops will address topics that bring together the different roles, providing the chance to have a wider conversation about the sport, whilst the afternoon sessions will be more role specific, ensuring there is something for everyone.
With the delivery team including both national and regional staff, come and meet the British Cycling team and speak to them about the topics that matter most.
Jonathan Day, British Cycling's head of sport said of the new approach: "We are really excited to launch the 2018 conferences. With an event in each region this will provide the opportunity to bring volunteers together to share best practice, build new relationships and provide updates on the latest information from British Cycling
"We are in the process of finalising content, and we're sure that everyone will leave feeling motivated to continue their fantastic work and put into practice all they have learnt from the day."
In 2017, nearly 800 volunteers attended the conferences and with delegates rating last year's conference 4.5/5 this is an event not to be missed.
An exciting schedule is currently being finalised with more information to follow over the coming months.
Bookings
Bookings will go live at the start of December, however if you have any questions regarding the conferences, please contact the Go-Ride team at go-ride@britishcycling.org.uk or the Cycle Sport Officials Support via commissairematters@britishcycling.org.uk.