Ahead of a busy season, we caught up with newly appointed cyclo-cross co-ordinator for the Great Britain Cycling Team, Matt Ellis.
Let's start at the beginning; tell us about your background in cyclo-cross.
After riding cyclo-cross as a youth I stopped cycling around the age of 17 or 18, but returned to the sport in my early twenties racing locally at first, and then at national level. I spent a few seasons racing domestically with the occasional international trip before making the move to Belgium, where I spent four years as a full-time professional. This went well and I rode all the bigger series including the Superprestige, world cups and world championships.
Interested in coaching cyclo-cross?
How did you get involved in programme management?
After my professional career, I returned home and worked for a year with Phil Dixon, starting the Great Britain Cycling Team mountain bike programme and working with young riders like Annie Last. I then had a long break from international cycling.
I've followed the sport as a spectator for the past few years and it's a really exciting time for the Great Britain Cycling Team with the past two worlds results and some great talent. I'm very pleased to be offered the opportunity to return to British Cycling as cyclo-cross co-ordinator.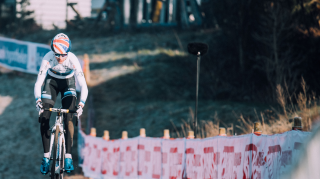 What does the role entail?
With the season already underway I see my role as team manager for some of the international races. But I also want to be a year-round point of contact for cyclo-cross at British Cycling where I'm already planning for the off-season. I am excited to be able to tap into the knowledge of the existing team to help young riders in, linking with some of the other programmes within British Cycling.
Longer term objectives are based around sustaining great results. I would like there to be a pathway that the riders and coaches can see and aim at, with the aim of there being really strong development of world class cyclo-cross riders.
And what about cyclo-cross at a grassroots level?
There is some really excellent cyclo-cross coaching and talent development going on around the country and I'm interested to meet the coaches behind these. I will do all I can to support cyclo-cross coaches and ensure that the sport continues to thrive.
Interested in coaching cyclo-cross?
Level 2 coaches can take our cyclo-cross award, which is a two-day course across subsequent weekends.
If you're not yet a coach, here's our guide to getting started.