Great Britain Cycling Team's Steve Bate is a double Paralympic champion - but he has further ambitions to fulfil this week in South Africa.
The tandem star lines up alongside Adam Duggleby in the time trial and road race at the UCI Para-cycling Road World Championships hoping to become world champion for the first time in his career.
In an exclusive blog for British Cycling, Steve talks about life post-Rio and his hopes for Pietermaritzburg.
Looking back
This time last year I was sat in Wales, on the Paralympic holding camp, watching our Olympic teammates tear it up in Rio, and finding it hard to believe that in just a couple more weeks, I would get the chance to make my own dream come true.
Fast forward a year and I'm sat with my team mates, spending my 40th birthday on a 12-hour flight to South Africa, to compete in the UCI Para-cycling Road World Championships to try and win that elusive pair of rainbow stripes.
Looking back at this time last year, I was a mixture of excitement, fear and nervousness for what was to come. The pressure I put on myself was huge. I didn't want to let my pilot Adam Duggleby down. We put so much work in last summer to give ourselves, coaches and support staff the best chance of winning that dream gold medal. Coming away from Rio with three medals and a world record was life-changing in so many ways.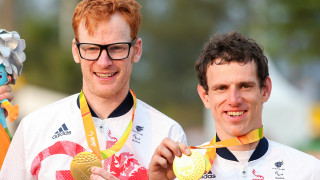 The opportunities that came out of that have been unforgettable; I've met the Queen, been awarded an MBE for services to cycling and sat in centre court at Wimbledon with my wife Caroline, in the Royal Box.
After the Rio fanfare had died down, I was ready to get away from it all. A bike trip to Chile was just what was needed for an escape. I've never been one for the limelight, I'd rather be out of wifi range, sleeping under canvas, enjoying wild adventures. Five weeks in Chile provided just what I needed.
I decided that this year I would try a different approach to training, so I have spent most of the year riding my Fat Bike, mainly to have a break from the road, and give myself time to think about what my future holds. Hopefully to find the answer to the question I'm constantly asked. Is Tokyo 2020 a possibility?
Adam and I agreed he would spend this year focused on solo time-trialling, which has been a huge success for him. His progression and results are remarkable. He has broken several course records, but the highlight for me, has been his 100-mile record, standing at 3 hours 18 minutes, averaging over 30mph. A remarkable ride.
I, on the other hand, have ridden my fat bike around the Yorkshire Moors and around the north-west coast of Scotland.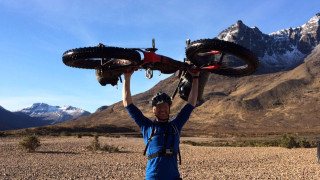 This year has been interesting for Adam and I on the international scene, only riding the tandem together at UCI Para-cycling Road World Cup events, unlike in previous years, where most of the summer would be spent time-trialling on home soil together. It's great getting back on the tandem and racing with Adam. I'm looking forward to seeing how we go out here in South Africa for the world championships.
We are aiming for our first world title and rainbow jersey and it would be amazing to leave South Africa as a world champion. It's something that I'm missing from my CV and I know if we can achieve it here it will lead us into the build-up for Tokyo 2020 really nicely.
But I'm not getting ahead of myself. All that matters is taking the next few days one day at a time and turning up on Friday to roll down the start ramp in the best shape I can.