British Cycling has today confirmed the two riders who will represent the Great Britain Cycling Team at the final round of the UCI Mountain Bike World Cup presented by Shimano in Val di Sole, Italy, from the 26 – 27 August.
British Cycling's senior academy rider Evie Richards, who has finished on the podium at every round of the world cup series in which she has competed so far, will represent Great Britain in the under-23 women's event and Frazer Clacherty will compete in the under-23 men's event having finished third at the Swiss Mountain Bike Cup in Basel over the weekend.
British Cycling's lead mountain bike coach Simon Watts said: "The world cup in Val di Sole is the last race before the UCI Mountain Bike World Championships in Australia next month, and both Evie and Frazer are in excellent shape as part of their preparations for that. This will serve them well this weekend as the course has a series of repeated steep climbs which are very physically demanding.
"A key objective for both riders this season was to perform consistently which they have done so far, and I'll be looking for them to continue this in Italy."
Annie Last, Grant Ferguson and Isla Short are among a number of other British riders who will also compete at the event for their respective trade teams.
Great Britain Cycling Team for the UCI Mountain Bike World Cup in Italy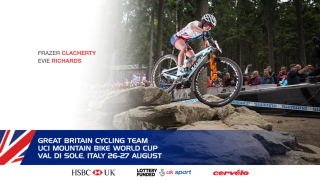 Frazer Clacherty
Evie Richards