British Cycling's two-time Olympic silver medallist Becky James has announced her retirement from the Great Britain Cycling Team after ten years of membership on the programme.
James, who was talent spotted by Welsh Cycling during a Go-Ride session at Abergavenny Road Club, was accepted onto the British Cycling Junior Academy programme at the age of 15 and was soon winning medals on the world stage, taking victory in the keirin and sprint at the 2009 UCI Junior World Championships in Moscow. James progressed along the pathway onto the podium programme, winning two Commonwealth Games medals for Wales in Delhi 2010 and three under-23 European Championship medals in Saint Petersburg along the way.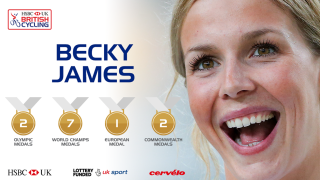 In 2012, James narrowly missed out on selection for the Olympic Games in London but was able to put that behind her to win four medals at the 2013 UCI Track Cycling World Championships in Minsk, including two gold medals in the sprint and keirin, at the age of 21.
A long period of injury and illness followed, but James worked hard over a three year period to overcome these setbacks and won the bronze medal in the 2016 UCI Track Cycling World Championships. With her form returned, James went on to win the silver medal in the sprint and keirin events at the 2016 Olympic Games in Rio.
To mark her retirement, who can forget this amazing medal moment from #Rio2016

Best of luck for the future @BecksJames pic.twitter.com/w75T39zId6

— Team GB (@TeamGB) August 17, 2017
Iain Dyer, head coach for the Great Britain Cycling Team said: "It's been an absolute pleasure working with Becky over the years, both in my current role as head coach and my previous role as sprint coach during which I worked closely with Becky.
"To see first-hand how she battled back from injury and illness to claim the silver medal in the sprint and keirin in Rio 2016 was inspiring to see and I count it as one of my career highlights.
"Her coaches, support team and I have all enjoyed working with Becky, both as an athlete and as a person, and she will be missed. On behalf of the team, I'd like to congratulate Becky on her career which she can look back on with pride, and wish her all the best with her future career off the bike."
Jonathan Browning, chairman of British Cycling, said: "Becky's journey to achieve her dream of becoming an Olympic medallist was by no means a straight forward one, and her attitude and tenacity is a great example for all of us.
"I'd like to thank Becky for inspiring so many women, especially in Wales, to start cycling both through her achievements on the bike and also during her time as an ambassador for Breeze – British Cycling's recreational cycling programme for women.
"As one of Britain's most successful female track sprinters, Becky can enjoy her retirement and the team at British Cycling are ready to support her transition as she embarks on new exciting ventures. Becky will always be welcome at British Cycling."