There cannot have been many riders who have had such an immediate impact on their Great Britain Cycling Team debut as Matt Rotherham.
Following the relatively late announcement of the 2017 UCI Para-cycling Track World Championships in Los Angeles the team found themselves a pilot short, following Pete Mitchell's decision to miss the event due to the imminent birth of his first child.
Matt, a former European champion as a junior, had pedigree on a tandem, winning the national tandem sprint championships, with his brother Tom in 2015 and Craig Maclean in 2011, and had enjoyed an excellent start to 2017 winning silver medals in the keirin and team sprint events at the 2017 HSBC UK | National Track Championships.
Matt explains: "I've been riding on the track for 13 years or since I was nine years old and towards the end of last year I was looking at how I can prolong my career and keep on riding and racing and being a tandem pilot seemed like a good option for me."
With qualification for the 2018 Commonwealth Games in mind, Craig MacLean and Neil Fachie were paired together, leaving Matt to pair up with James Ball. Ball, a promising sprinter in athletics before making the switch to cycling had enjoyed a successful 2016 alongside Maclean, winning a bronze medal at the 2016 Para-cycling Track World Championships and finishing fifth in the tandem kilo at the Paralympics in Rio.
After riding together for just seven weeks, the new pairing dominated the tandem sprint events winning the kilo and sprint, nudging Fachie and MacLean into the silver medal position in both.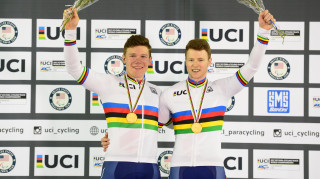 "We were riding together for seven weeks before the world champs so to get the performances that we did was really special. The times we were doing in training were looking good and to go there and perform that well was really good."
Though he was experienced on the tandem, the position of pilot was an unusual one for Rotherham.
"If I had to pick a position on the tandem, I'm the stoker normally so it's new for me piloting. Thankfully James was really patient with me and a few sessions in we were already going pretty quick. It was a steep learning curve but a worthwhile one."
Now confirmed as part of the Great Britain Cycling Team Para-cycling Podium Programme Matt is now looking ahead to a 2018 that could include a world championships and Commonwealth Games.
"We're going through a process at the moment of trying to work out the best tandem pairings. We have three pilots on the team (Matt, Pete Mitchell and Craig MacLean) and two stokers (James Ball and Neil Fachie) so we're just trying to work out who is comfortable with who. We've got the next few months to nail that down and then we'll start looking towards the world champs and hopefully the Commonwealth Games should we qualify."