There was another silver medal to add to the tally for the Great Britain Cycling Team on the first day of road racing at the UCI Para-cycling World Cup in Maniago as Craig McCann won a gutsy silver medal in the T2 road race.
After a fifth place in yesterday's time-trial McCann started the race strongly and at the end of lap one was on the wheel of Paralympic and world champion Hans Peter Durst.
However the race was blown wide open during lap two when Peter Durst suffered a puncture leaving him well behind the rest of the field. With the pre-race favourite out of the running it was all to play for with McCann coming through strongly at the front of the group at the end of the penultimate lap.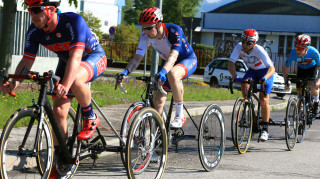 In the final lap McCann was in a group of three at the front coming into the finishing straight with Belgian rider Tim Celen and Italian Giorgia Farroni for company.
Celen pulled clear to take the gold medal and leave McCann in a battle for second place with Farroni, which the Italian looked to have won with twenty metres to go.
However he just left a slight gap for McCann and he took full advantage, lunging for the line and taking second place courtesy of a photo finish.
Photo finish for silver!

A World Cup silver medal for @CMcCannGB this morning in Maniago #Paracycling2017 pic.twitter.com/0fPNlcbKnb

— British Cycling (@BritishCycling) May 13, 2017
A fencer at London 2012, McCann said his first world cup medal justifies his decision to make the switch to cycling.
"It's been a long time coming. I switched sports after London and it's been a long journey to get to where I am now and all the work has paid off.
"I thought I had second coming round the corner, I could see the line I wanted to take and I was happy with it and then the Italian flew straight out in front of me and I could just see silver disappear, but for some reason he opened up a tiny gap and I just thought I'll take it."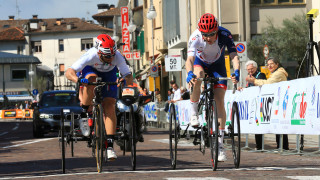 McCann added that missing out on Rio 2016 has been a huge motivating factor in his training.
"Going to a games (London 2012) was obviously an amazing feeling, sitting at home watching the next one, my partner went, and watching her compete and hear all the amazing stories when she got back was disappointing to have to take but it's very very good motivation, to push on, and stay focused."
McCann is now hoping to build on the result going into the rest of 2017 and beyond.
"It gives me massive confidence. It means a huge amount. Not such a great ride yesterday in the TT, I just couldn't get the legs working, so to be able to put that in today, just reminds me and Tom (Hodgkinson, McCann's coach) that we can do it and it really sets me up for the rest of the year just knowing that the first one was in the bank, the first of many, and I just need to keep pushing on now and make sure I get a different colour next time."
Sunday will see the rest of the Great Britain Cycling Team in action with Steve Bate, Adam Duggleby and Crystal Lane all looking for their second medals of the weekend, while Will Bjergfelt, Simon Price and Liz Saul will all be in action.