The Great Britain Cycling Team are straight back into UCI BMX Supercross World Cup action with rounds three and four in Zolder, Belgium this weekend.
It was a weekend of mixed fortunes in Papendal, Netherlands at the opening rounds of the 2017 UCI BMX Supercross World Cup.
Saturday proved to be an tough series-opener for the British team; with no riders progressing past the quarter finals.
On Sunday junior rider Bethany Shriever recorded a career-best result, with a sixth place finish in the elite women's final, while teammate Kyle Evans managed the best finish of the male riders, going out in the semi-finals after winning all of his previous races.
The team
Eighteen-year-old Shriever sits in 10th position in the overall world cup rankings going into this weekend's racing. The 18-year-old will be bolstered by her strong performance in Papendal and will be looking to retain her top-ten spot.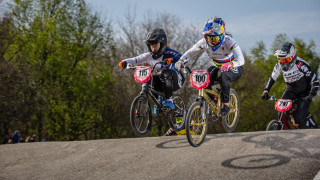 Four wins from four in the UEC BMX European Cup underline Shriever's fine form in 2017.
Blaine Ridge-Davis reached the 1/8 finals in both rounds in Papendal, a promising consistency from the youngster.
Kyle Evans, who currently sits in 15th place in the world cup standings, is happy to be back on his bike and racing, after a frustrating winter nursing a wrist injury.
Good positives to take away.. more experience under my belt.. looking forward to getting stuck in to more racing this year #211 pic.twitter.com/bDk4E68zsr

— KyleEvans (@KEvans26) May 7, 2017
The Olympian will hope to make his first world cup final of the season as he gears up to challenge for the top spots at the UCI BMX World Championships In July.
Senior Academy riders Quillan Isidore and Paddy Sharrock were locked together all weekend in Papendal, finishing within a place of each other in both rounds. The Senior Academy riders will both be looking to get beyond the quarter-finals in the third and fourth rounds.
Both Whyte brothers, Tre and Kye, suffered crashes in the opening round. Older brother Tre will be hoping for a smoother weekend in Belgium, while 17-year-old Kye takes on only his second world cup event.
Schedule (UK times)
Round three - Saturday
12noon - 4.20pm
Round four - Sunday 14 May
12noon - 4.20pm
Watch live
Round three
Round four
How the 2017 UCI BMX Supercross World Cup works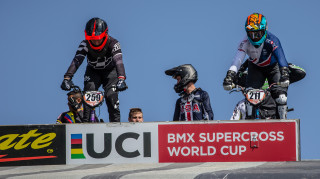 2017 will see a new format for the UCI BMX Supercross World Cup with six rounds of racing across three weekends.
Papendal got the action under way before rounds three and four this weekend.
After the UCI BMX World Championships in Rock Hill, USA, on 30 July, the world cup returns for rounds five and six in Santiago del Estero, Argentina.
With each venue now hosting two rounds of racing, time trials have been removed as have the moto rounds.
Instead each day will see a straight knockout format from round one (1/32 stage) through to the main finals. Riders knocked out in the opening round will go into the 'last chance' heats for one more opportunity to make the 1/16 finals.
Riders are awarded ranking points based on their finishing position in each round, the rider with the most points is crowned UCI BMX Supercross World Cup champion.
How to follow the UCI BMX Supercross World Cup
Watch both rounds live on YouTube above.
Follow @BritishCycling on Twitter.
Report and gallery will appear on the British Cycling website.