The HSBC UK Go-Ride Conference series of 10 regional events came to a close on Sunday 19 March in Tunbridge Wells, with nearly 500 volunteers having attended.
These annual Go-Ride Conferences provide volunteers from Go-Ride Clubs with a place to meet with the wider Go-Ride network from their region, whilst also learning about new and exciting approaches to club development.
This year the new-look roadshow visited each of the 10 regions across England, hosted by a team of development staff and National Youth Forum representatives. The valuable and confident contribution made by young volunteers highlighted the importance of ensuring young minds are involved in the development of the sport.
After an opening address to update volunteers on the latest developments, delegates broke out into coaching and volunteer workshops. These engaging sessions helped clubs to share practical tips, offering an important opportunity to review current practices and plan for the season ahead.
Inside the coaching workshop
Qualified coaches found themselves pulling all sorts of shapes in this session, with the launch of a new continuous professional development module. Focusing on key fundamental movement skills for riders, volunteers explored ways to incorporate poses such as the dish and the bear into sessions, in order to promote rider strength, posture and balance.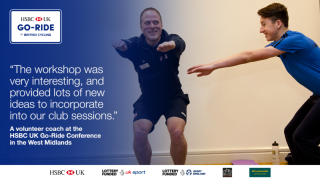 Inside the volunteer workshop
This year the volunteer workshop was delivered by regional development managers, focusing upon the most relevant issues for individual regions.
From the Club Management Tool to Go-Ride Racing and everything in between, each session set out to improve the day-to-day running of clubs and promote long term development.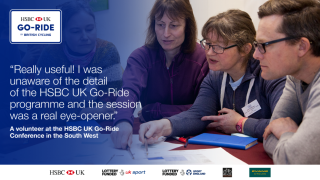 HSBC UK Go-Ride Awards
On completion of the workshops, attendees joined together one final time to hear nominations for the Go-Ride Awards and congratulate the winners. Over 25 awards were given out, recognising individual commitment, club development and attainment of Clubmark.
Summing up the 10 events, Steph Allmark, Development Manager, said:
"This year we increased the number of conferences to one per region and this has gone down really well with delegates, allowing them to network with local clubs and build on their relationship with regional staff.
"Once again the team has created engaging and dynamic workshops, where delegates have left with new and innovative ideas to implement back at their clubs - and ensure the Go-Ride programme continues to go from strength to strength."