The 2017 HSBC UK | BMX National Series starts this weekend with the opening two rounds taking place across Saturday and Sunday at the HSBC UK National Cycling Centre in Manchester.
The BMX National Series brings Britain's best BMX riders together over six weekends - and 12 rounds of racing - from March to August.
After Manchester, the series visits Birmingham, Cumbernauld, Manchester's Platt Fields and Braintree before the final rounds at Kent's Cyclopark.
How the series works
Riders are rewarded points based on their results in each round (up to maximum of 100 points per round). A rider's best seven results from the series makes up their total. The rider with the highest total in their respective category is crowned BMX National Series champion.
Superclass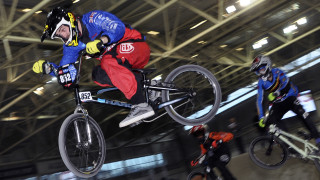 The Superclass category is the highest ranked category for men.
At the time of writing, defending champion Curtis Manaton is not scheduled to ride, but Great Britain Cycling Team's Kyle Evans, Tre Whyte, Ross Cullen, Tian Isidore, Euan Hunt, Kye Whyte and Paddy Sharrock are all set to represent their respective club teams.
The Whyte brothers, Hunt and Sharrock all finished in the top ten in 2016, as did Oliver Cutmore and Billy Luckhurst, who will both be present in Manchester.
Championship women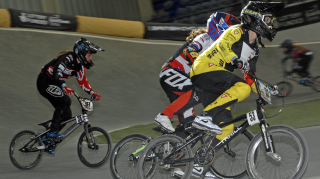 The Championship women category is the highest ranked category for women.
Bethany Shriever was in a class of her own in 2016 as she marched to the title with nine wins from 12 rounds.
The Great Britain Cycling Team Junior Academy rider will be back as will Charlotte Green, who took second place last season.
Emily Green, Blaine-Ridge Davis, Charlie Hartwell and Lauren Stack are all listed to start, having taken top-ten placings in 2016.
Venue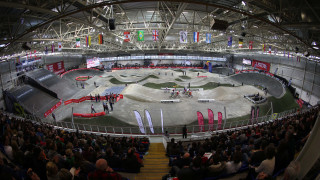 Opened in 2011 and now regarded as one of the world's best BMX venues, the indoor track at the HSBC UK National Cycling Centre has hosted the UCI BMX Supercross World Cup on four occasions.
The facility has an international standard five-metre start hill and an eight-metre supercross ramp.
How to follow the BMX National Series
Watch live - this weekend's racing will be streamed live on British Cycling's Facebook page. Keep an eye on the page through the weekend to watch all the racing in Manchester.
A report, gallery and results will appear on the British Cycling website.