National champions' jerseys are up for grabs in Birmingham on an exciting evening of bike racing in the city.
The country's top riders and teams are heading to the Midlands on Thursday 28 July with both men's and women's titles to be decided.
Men's championship
Defending champion Ian Bibby will look to become the first man this century to win back-to-back national circuit race titles.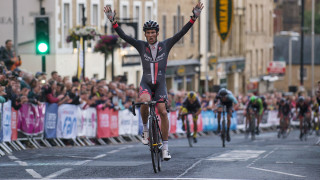 The NFTO rider is in good form, having taken the win at the Wales Open Criterium in the British Cycling Elite Circuit Series earlier this month.
Perhaps Bibby's main challenge will come from JLT Condor's Chris Lawless.
Lawless has wins in three rounds of the British Cycling Elite Circuit Series in 2016 and will surely be eyeing up the title in Birmingham.
Another major threat could come from one of Lawless' team-mates Graham Briggs, a former champion in 2011 and last year's runner-up. Another JLT Condor rider, Tom Moses, is having a fine season with a victory in the RideStaffs Kermesse in the Motorpoint Grand Prix Series under his belt this year.
Pedal Heaven's Harry Tanfield will look to convert a win in the circuit series to the national championships as will Spirit Bikes Racing Team's Jacob Hennessy.
Women's championship
In the women's race, all eyes will be on Nikki Juniper as she looks to retain the national champion's jersey she won in 2015.
Juniper of Team Ford Ecoboost has dominated the domestic scene in 2016 by winning the 2016 British Cycling Women's Road Series with three races to spare.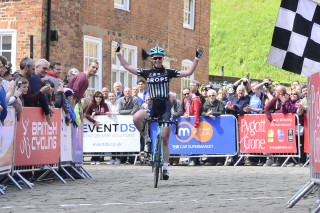 Alice Barnes took second place in the 2016 British Cycling National Road Championships, and with it the under-23 title, and the Drops Cycling Team rider will look to emulate sister Hannah, who is a three-time circuit race champion, but will not be competing in Birmingham.
The Podium Ambition p/b Club La Santa line-up will be confident of a strong performance, with Grace Garner and Gabriella Shaw part of their four-woman team.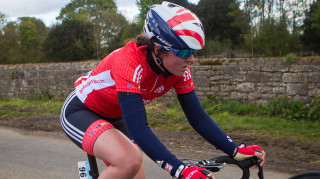 Perhaps the most popular team competing in Birmingham will be Team Breeze. With some of the squad fresh from taking under-23 honours at the UEC Track Juniors and U23 European Championships in Italy earlier this month, the likes of Emily Nelson, Emily Kay and Danielle Khan will be in action in Birmingham – with Annasley Park perhaps the most likely to challenge for honours.
Course
The race will take place on a 1.1km city centre circuit, starting and finishing on Broad Street and taking in Granville Street, Holliday Street and Bridge Street.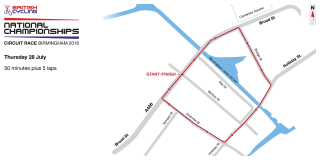 Start lists
Schedule
6.30pm: Women's race start (50 minutes plus 5 laps)
7.30pm: Women's race finishes
7.40pm: Women's podium presentation
8.00pm: Men's race start (50 minutes plus 5 laps)
9.00pm: Men's race finish
9.10pm: Men's podium presentation
How to follow
Follow the action with updates and images in our live blog from 6.15pm on Thursday.
Follow @BritishCycling on Twitter for updates, images and videos.
Live coverage on Eurosport from 6.15pm.