Great Britain Cycling Team's Sophie Wright took an impressive fourth place at the UCI Mountain Bike World Championships in the Czech Republic.
Wright, who claimed the European title in Sweden in May, rode strongly in Nove Mestro na Morave, but couldn't close the gap on the leading pack.
The Norfolk teenager started strongly, but lost time in the technical sections of the course.
But Wright's climbing ability allowed her to stay in the hunt for medals, as she clawed back several places to climb from a lowest position of tenth, to just outside the podium places in fourth.
She finished over two and a half minutes behind Sweden's Ida Jansson who dominated on a sunny day in the Czech Republic to win in 1:02.30.
Austria's Lisa Pasteiner was 25 seconds behind Jansson to take silver, while Italian Martina Berta was one minute and 50 seconds off the lead to take third.
Great Britain Cycling Team's Emily Wadsworth crashed on the rock garden section of the course on her second lap, but bravely recovered to finish 31st.
.@sophiekwright8 pleased with 4th place in junior women's race at #XCOWorlds https://t.co/V9W6uvj2bE

— British Cycling (@BritishCycling) July 1, 2016
After the race, Wright said:
"It was good, it was a pretty tough race. From the start it was a high pace but I knew I had to keep calm at the start because I knew that there were long, wide, hills so I knew I could make up places.
"I think I was positioned about tenth on the first lap but then every time we got onto the hill I kept working my way up and catching the riders. Unfortunately I did lose lots of time on the technical. I could tell, I just saw them getting away.
"My goal was to win it after winning the Europeans, I was pretty confident coming into this but I'm pretty pleased with fourth as a first year junior. I've got next year to look forward to and aim for that as my main goal."
In the junior men's race, Will Gascoyne best performed for the Great Britain Cycling Team, picking up tenth place in a five-rider bunch sprint finish.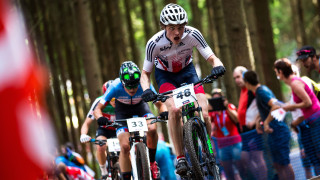 The Matlock teenager was 27th after the start loop before gaining 17 places through a gutsy, determined ride to finish 2:29 behind race winner Thomas Bonnet of France.
Gascoyne said: "Really good. I thought I was struggling at the start, I got a really bad start and I picked off a lot more riders than I thought and someone shouted out I was 15th when I thought I was about 40th!
"It made me relax a bit. I didn't lose a bit of time because I knew I was on my limit and I just slowly pegged it back but not soon after I realised where I was, I got a puncture which was not really the best. I don't think it affected me that much.
GB Cycling Team's Will Gascoyne battles back to take tenth place in men's junior cross-country race at #XCOWorlds https://t.co/SabpPdEKMY

— British Cycling (@BritishCycling) July 1, 2016
Gascoyne's dive on the line earned him a top ten finish, a result he was very proud of.
"I thought everyone was coming past me. I saw the Czech guy dying a little bit so I just lunged for the line and just pipped him. I didn't think I got him but really, really happy."
The young Frenchman was in control of the race from start to finish to win in 1:08.32, with Vital Albin of Switzerland in second, 36 seconds behind, and Norwegian Tobias Halland Johannessan in third, a further 24 seconds back.
Gascoyne's Great Britain Cyling Team team-mate Cameron Orr finished 34th following a crash on the second lap.