The para-cycling team sprint is unique in track cycling as being the only Olympic or Paralympic track discipline in which men and women compete together.
About
The mixed team sprint sees teams of three riders taking on the clock and their opponents over three laps of the velodrome.
Format
Teams take to the track alone to post a qualifying time, with the two fastest going through to the gold medal match and the third and fourth fastest racing for bronze.
Classification
The team sprint is an event for 'C' athletes – those riders with locomotion impairments who can ride a bicycle. Riders within the 'C' group will be placed into one of five categories, with C1 indicating the greatest degree of impairment and C5 the least.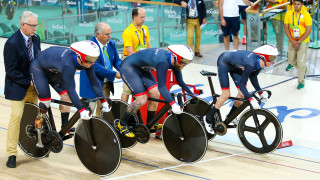 For the purposes of team sprint, scores are assigned to each classification:
Men C5 – 4 points
Men C4 – 4 points
Men C3 – 3 points
Men C2 – 2 points
Men C1 – 1 point
Women C5 – 3 points
Women C4 – 3 points
Women C3 – 2 points
Women C2 – 1 point
Women C1 – 1 point
The total number of points for the three riders for a team sprint must be a maximum of 10 points.
Venue
Organisers of the 2020 Olympics and Paralympics in Tokyo scrapped plans to build a purpose-built, 5,000 seat velodrome for the Games in Tokyo Bay as part of cost-cutting measures. Track cycling will now be held at the Izu Velodrome, 120km to the south-west of Tokyo.
The Izu Velodrome has a 250m Siberian Spruce wooden track with 42 degree banking and opened in 2011 as the first indoor cycling track in the country. The venue currently has a 4,300 seat capacity.
When
Track cycling at the 2020 Paralympic Games in Tokyo is currently scheduled to take place from Thursday 27 August until Sunday 30 August.
With Tokyo eight hours ahead of British Summer Time, it is believed that racing will take place at around 2am-4am (all days, morning sessions) and 8.30am-11am (Thursday, Friday and Saturday, evening sessions) for UK audiences.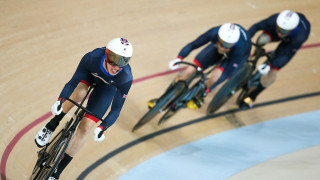 Facts
Track cycling made its Paralympic debut in 1996 in Atlanta, although the mixed team sprint was only held at a Paralympics for the first time in Sydney in 2000.
The event was then replaced by the men's team sprint in 2004 and 2008, with the trio of Darren Kenny, Mark Bristow and Jody Cundy winning gold in Beijing.
In 2012 in London, the mixed format returned, with the Chinese team of Xiaofei Ji, Xinyang Liu and Hao Xie pipping Great Britain's Jon-Allan Butterworth, Darren Kenny and Rik Waddon to gold.
Great Britain won the title back in 2016, with the trio of Louis Rolfe, Butterworth and Cundy claiming gold, setting a new world record on their way to the title in Rio.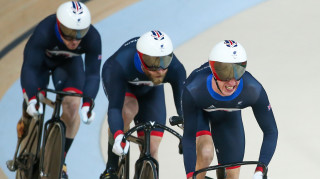 Records
World records
48.635, Great Britain (Louis Rolfe, Jon-Allan Butterworth, Jody Cundy), 11 September 2016, Rio de Janeiro, Brazil, Paralympic Games.
Paralympic records
48.635, Great Britain (Louis Rolfe, Jon-Allan Butterworth, Jody Cundy), 11 September 2016, Rio de Janeiro, Brazil.