Summer is made for cycling, due to the longer days, higher temperatures and time off school! With the team competing in Rio we want to make this one a year to remember – but we need your support.
This year it's all about capturing the summer festival spirit, where we're encouraging clubs to put on an open day, join a local event, run a coaching session or Go-Ride Race during August.
This is your chance to hold an extra special event, show the local community how fun it is to get involved with a Go-Ride Club – and potentially get some new members and volunteers.
We know that coaches and volunteers at Go-Ride Clubs across the country are always coming up with new activities, tricky techniques and fun themes to challenge their young riders.
There have been Halloween sessions, bike Jenga and 'last across the line' races to name just a few, with lots of other ideas shared on social media.
Now the challenge is to embrace the summer, encouraging tropical techniques and scorching skills.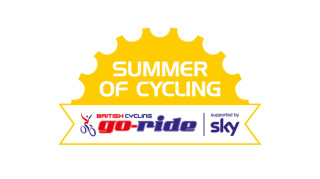 We will support you every step of the way by putting Go-Ride on the map.
This means helping you to promote club activities on the British Cycling website, the BBC Get Inspired website and with your local press.
There are also limited edition event packs to get your hands on, with special Summer of Cycling t-shirts, flags and wrist bands.
Get ready for summer
Step one is to plan ahead, working with your club to come up with some dates and ideas.
Whether you focus on one event or organise several, this will all add to a big season of cycling.
As soon as you have something in the calendar, send the details to us using our short online form.
We will then get this updated on the British Cycling website and pass the details on to BBC Get Inspired.
And on top of that, we will be acting as your very own press room!
This means passing news of your event on to local press so that they can promote the session and possibly even come along.
Your holiday kit bag
For signing up you will receive a set of Go-Ride resources including:
T-shirts
Flags
Wrist bands
Certificates
These will help to give your events a party atmosphere and provide riders with a prize to take away.
If you have any questions please get in touch with the Go-Ride team, otherwise we will get in touch to let you know once your event is up on the British Cycling events calendar.
We will also continue to share the event form over the next few months so that you can keep adding to it.