David Stone announced his return to the Great Britain Cycling Team with a silver medal in the T2 road race at the UCI Para-cycling Road World Cup.
The three-time Paralympic gold medallist, who missed the entire 2015 season, just missed out on the gold, with world champion Hans-Peter Durst of Germany pulling clear in the final sprint.
Karen Darke also added to both her own, and Great Britain Cycling Team's medal haul with bronze in the H3 road race.
Stone had been part of a dominant trio for much of his race, having formed a breakaway with Durst and Italian Giorgio Farroni.
Back in GB colours & back on the podium with a silver - it's been a good world cup for David Stone #paracycling2016https://t.co/j7HrJvyeFk

— British Cycling (@BritishCycling) May 21, 2016
The British rider and his German counterpart pulled clear of Farroni in the later stages – but Durst was too strong in the closing battle.
It marks a successful return to international duty for Stone, following his fourth place finish in yesterday's time-trial.
Reflecting after receiving his medal, Stone said:
"Yeah, decent today. I wasn't sure how it would go after so long off the bike but it just clicked into place. It was a really nice boost to be racing again
"(Hans Peter Durst) is a solid rider, you can't really fault him, but I think with a bit more work, he is beatable. I've shown that in the past, I've only been back on the bike a short period. We'll crack on!"
In the same race, Great Britain Cycling Team's Craig McCann showed further signs of his encouraging international development with a strong sixth place finish.
Karen Darke continued her strong form on the road this season with third place in the morning's H3 road race.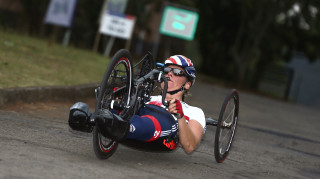 Fresh from a time-trial silver, Darke was part of a leading pack for much of the race and formed a breakaway group with Italian Francesca Portellato and Renata Kaluza of Poland.
But Porcellato, winner of yesterday's time trial, showed her class once more by sprinting to her second gold medal of the weekend, with Darke 11 seconds behind in third.
Back on the podium once again - an excellent world cup weekend for @kdarke #paracycling2016 pic.twitter.com/p3XZCBydWA

— British Cycling (@BritishCycling) May 21, 2016
In the women's T2 race, Hannah Dines just missed out on the podium for the second time this weekend – finishing fourth again following the same result in the time trial.
The race only had a small field with just seven riders taking the course – but the event boasted real international pedigree.
Dines was unable to join the leading pack who broke away in the early stages, with Australian Carol Cooke, Jill Walsh of the USA and Germany's Jana Majunke setting the early pace.
Cooke charged clear to secure the gold medal with Dines four minutes and 15 seconds behind to take fourth place.
Great Britain Cycling Team's medal tally now stands at six overall – three bronze and three silver, with C and B class road races on the schedule for the final day of racing on Sunday.