Great Britain Cycling Team's Liam Phillips believes the 'Mariana Pajon factor' will see Colombia deliver a BMX world championships to remember in May.
Medellin, birthplace of the London Olympic champion, hosts this year's event on a track named after the 'Queen of BMX'.
Pajon, who has over 1.4 million followers on Twitter, is a national sporting hero having won Colombia's only gold medal at the 2012 Games.
"It'll be good," said Phillips, who was victorious at the Manchester round of the UCI BMX Supercross World Cup for a fourth consecutive time.
"It's in Colombia and Mariana is like a queen there, the atmosphere is going to be amazing. It's going to be a world champs to remember.
"It's going to be an intro to what we are going to see in Rio really. The track is quite open, it's pretty technical, it's long and it's in South America."
Phillips, who travelled to train on the outdoor track with his Great Britain Cycling Team colleagues in March, is targeting a second world title after success in 2013.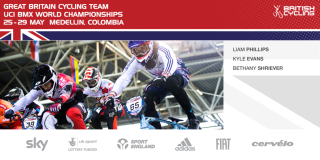 The championships come less than 12 weeks before the Rio Olympics but for Phillips the chance to wear the world champion's rainbow jersey still retains as much significance as ever.
"That's what I race for and this is no different," the 27-year-old said.
"It's an opportunity to try and wear that jersey again. That's something I try to achieve every single year and this year will be no different regardless of the Olympics.
"Obviously the Olympics is a completely different event and it has different significance.
"For me it doesn't really change anything just because it's an Olympic year. I'll be going there looking to be successful, for sure."
The 2016 UCI BMX World Championships take place from 25-29 May.