Blue Peter presenters Barney and Radzi took on a Track Cycling Challenge of three demanding events, with the aim of racing head-to-head at the final round of the Revolution Track Cycling Series.
November 2015 marked the beginning of the Blue Peter Track Cycling Challenge when presenters, Barney and Radzi, headed to the National Cycling Centre in Manchester to discover exactly what was in store for them.
British Cycling coach Charlie Evans was waiting to introduce them to their mini omnium challenge consisting of a flying lap, match sprint and head-to-head kilo.
The presenters took on the challenge in aid of Sport Relief, training over the winter to race against each other at the final round of the Revolution series of track cycling in Manchester on Saturday 23 January.
With Barney having completed the Big Bike Challenge with British Cycling back in 2013 he had some track experience, whereas Radzi was completely new to track with a history in explosive sports such as karate and skeleton bobsleigh. As the first training sessions unravelled, it was clear that these different backgrounds would make for interesting racing!
Watch all three episodes of the Blue Peter Track Cycling Challenge on the BBC iPlayer
For a behind the scenes run through, read on…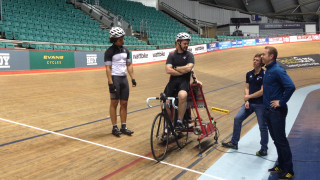 Getting to grips
The presenters worked closely with coach, Charlie, throughout the challenge, developing their bike handling skills and understanding of the three races ahead of the competition.
With sessions at Derby Arena and the National Cycling Centre in Manchester, Barney and Radzi were put through their paces and taught to ride rollers to develop cycling fitness in their own time.
Barney and Radzi Go-Ride
Back after their Christmas break, the presenters joined two experienced Go-Ride members who train and race at Derby Arena.
Travelling up to the National Cycling Centre for a Monday morning session, Josh and Tilly (of Derby Mercury RC and Spalding CC, respectively) helped Barney and Radzi get used to riding in proximity and explore the tactics and skills the mini omnium would draw upon.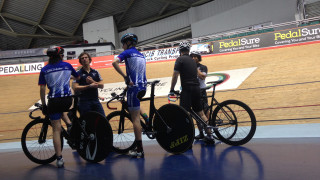 Pushing themselves even further, the presenters joined a Go-Ride track cluster session at the National Cycling Centre where 40 young riders from local Go-Ride Clubs were coached for three hours on a Sunday afternoon.
Riding with the intermediate group, Barney and Radzi were able to hone their precision riding – as well as getting a taste for the speeds they would be getting up to on the night.
Learning from the best
Arriving kitted up for their final session before Revolution, Barney and Radzi were met by none other than Olympic champion and track cycling legend, Sir Chris Hoy.
With such an expert on hand to offer advice, Charlie decided that it would be a great opportunity for the boys to practice their gate starts. The presenters had also been training on HOY Fiorenzuola track bikes kindly loaned from Go-Ride partner, Evans Cycles, which Sir Chris designed to meet his exact specifications.
After two hours of surprisingly successful starts (for first timers) and a few runs through the races, Barney, Radzi and Sir Chris spent time talking through what was to come – as well as taking an all-important selfie (or two).
Great to meet Blue Peter's Radzi & Barney to give a few pointers ahead of their @sportrelief challenge @revolutionuk pic.twitter.com/QEjf7mMQbB

— Chris Hoy (@chrishoy) January 18, 2016
Race night
On Saturday 23 January at 12pm, the doors opened for the afternoon session of Revolution and everything got a bit real. Dressed in bespoke Blue Peter meets Go-Ride skinsuits from adidas and Lazer helmets, the riders definitely looked the part as they greeted the crowd.
Tilly and Josh joined the riders on the night for some last minute tips on preparation, while Charlie ensured that the riders ate, rested and warmed up in good time to race the three events.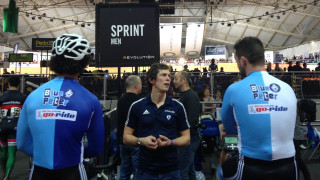 The afternoon session featured the flying lap and match sprint, with the head-to-head kilo taking place in the evening. This meant that the riders had a similar experience to the other elite riders such as Laura Trott, Andy Tennant and Owain Doull, with supporters' banners and cheering giving them a similar level of celebrity.
To find out what happened, watch episode three of the Blue Peter Track Cycling Challenge (opens in BBC iPlayer).