Shrewsbury is set to host the 2016 British Cycling National Cyclo-cross Championships on 9-10 January, as riders from under-14 to veteran get ready to descend upon the Shrewsbury Sports Village for two days of action to decide a total of 19 separate age and gender-related national titles.
The contenders
Elite men
2015 champion: Ian Field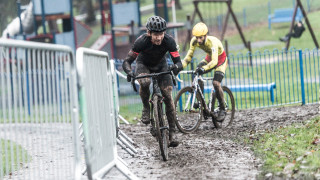 Reigning champion Ian Field has had a flawless domestic season this year, clinching the National Trophy with a round to spare, thanks to five wins in five races. But the race for the coveted Swatkins Trophy will be far from plain sailing for the Hargroves Cycles – Ridley RT rider, with some serious competition on the start line.
Liam Killeen will be keen to put his Bradford National Trophy experiences behind him, where the Olympian cross-country mountain biker outrode Field on the course only to be disqualified for a pit lane infringement. Killeen has taken the silver medal five times, including 2015, but the gold medal has thus far eluded him.
Both riders will have to contend with the talents of Grant Ferguson, the British Cycling Olympic Podium Programme cross-country mountain biker riding against Field in the elite men's race for the first time.
Three times an under-23 champion, the Betch NL – Superior Brentjens rider has had a career-best season on the mountain bike, with world cup gold, European championships silver and world championships bronze to his name.
Behind the three favourites are a number of riders with the ability to capitalise on any misfortune. 2011 champion Paul Oldham has been a consistent presence through the domestic series, the Hope Factory Racing rider currently running second in the National Trophy rankings ahead of Hope teammate and first year elite Jack Clarkson.
David Fletcher is also a threat, the Pines Cycles-Felt-Enve rider second behind Field in Bradford while 2010 national cyclo-cross champion and current road pro Ian Bibby has shown he has lost none of his 'cross prowess this season.
Elite women
2015 champion: Helen Wyman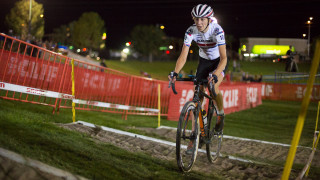 With a separate race for the burgeoning under-23 and junior categories, the elite women's race is shaping up to be a face-off between reigning champion Helen Wyman and Nikki Harris.
Harris has stolen the limelight this season on the international scene, taking European championships bronze in Huijbergen and her first ever world cup win in December in Namur.
Harris had an off weekend at the following Boxing Day world cup round in Heusden-Zolder but will be keen to challenge nine-time champion Wyman and add to her solitary elite national title, having been runner up to Wyman on five occasions.
Wyman's record in the championships is overwhelming, first winning the title in 2006, the only blip being Harris' 2013 victory, when the Kona Factory Racing rider took silver.
A Superprestige win at Spa-Francorchamps in mid-December followed by a fourth place in Diegem between Christmas and new year is an indication of Wyman's current form.
Both riders thrive in muddy conditions and will be building form as the world championships approaches, teeing up a gripping battle for the Shrewsbury crowd.
The final spot on the podium will be just as difficult to predict with the Hope Factory Racing duo of Adela Carter and Annabel Simpson likely to battle for bronze.
Under-23 men
2015 champion: Grant Ferguson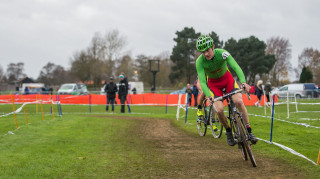 With 2015 champion Grant Ferguson riding the elite race this year, the battle for the Joan Edwards Trophy will be fierce. National Trophy leader Nick Barnes will hope to extend his series dominance into the national championships but will face a slew of talent in 100% ME colours, with British Cycling Olympic Senior Academy riders Frazer Clacherty, Mark McGuire and Iain Paton in the mix.
George Thompson has challenged Barnes all season in the National Trophy and will want a good showing at the nationals. Wheelbase Altura MGD's Jack Humphreys is also a distinct threat, as is Tom Craig, who won the junior national title in 2015 in his last year in the category.
Under-23 women
2015 champion: under-23 n/a (new category), junior - Amira Mellor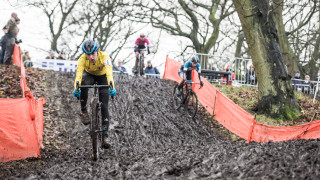 The inaugural under-23 women's race promises to be one of the most fiercely-contested of the UCI-ranked events, with the inclusion of junior women adding further spice.
National Trophy leader Hannah Payton will resume her season-long battle with Bethany Crumpton and Amira Mellor, all three having benefitted from world cup exposure this season.
They will need to muster all their experience however, with Alice Barnes and Evie Richards both capable of taking the title. On form alone, chief among the threats is Richards, who has taken two emphatic National Trophy victories in the run up to Shrewsbury.
Barnes too has had a superb season on a number of fronts, taking her first cross-country world cup podium in Mont Sainte-Anne and a silver medal behind Lizzie Armitstead at the national road championships in Lincoln.
Favourite for the junior title is Sophie Wright, who has been first junior in the last two rounds of the National Trophy; the Renvale RT rider will be buoyed by being eligible to contest both the under-23 and junior medals.
Junior men
2015 champion: Tom Craig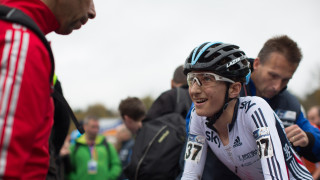 Big news is the absence of National Trophy leader Tom Pidcock, who will be riding on the track for the Great Britain Cycling Team in Alkmaar, Netherlands.
With Pidcock out of the equation, his Oldfield/Paul Milnes Cycles ERT teammate Ben Turner is likely to vie for the title with Beacon Wheelers' Mark Donovan.
Along with first year junior Dan Tulett, Harry Yates is the only other rider to have graced the National Trophy podium this season and both will be keen to capitalise on Pidcock's absence.
Veteran men
2015 champion: Nick Craig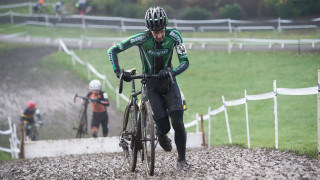 In the 40-49 race, reigning champion Nick Craig is likely to lock horns with Rob Jebb, the perennial Three Peaks adversaries having shared four wins out of five in the National Trophy this season. Jebb took a trio of Trophy wins in the mud of Derby, Durham and Bradford and with the going predicted to be decidedly gloopy in Shrewsbury, it could be advantage Jebb in 2016.
The 50+ looks to yield a similar clash of the titans, with National Trophy winner Tim Gould set for battle with Chris Young.
Veteran women
2015 champion: Isla Rowntree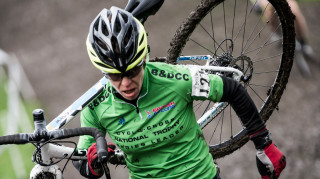 Maddi Smith has totally dominated the veteran women's series this year with five straight wins and on results alone, few would bet against the Bolsover and District Cycling Club rider to take the national title too. However, 2015 champion Isla Rowntree has spent the season contesting the elite women's National Trophy so it will be intriguing to see how the two riders will stack up together.
Youth boys
2015 champions: Dan Tulett (under-16), Lewis Askey (under-14)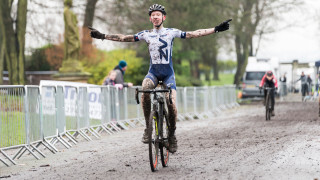 The under-16 race looks to be wide open with Lewis Askey, Toby Barnes, Euan Cameron and Ben Tulett all having taken National Trophy wins this season. Series leader Askey (Lichfield City CC) took the most recent win in Bradford, while Tulett pushed him close. Could Ben follow elder brother Dan on the Halfords Trophy roll of honour?
Askey vacates the under-14 title and makes way for a new champion to be crowned and with four wins to his name in the national series, Emile Alexander is favourite to take the title back to Lichfield City CC.
Youth girls
2015 champions: Sophie Thackray (under-16), Poppy Wildman (under-14)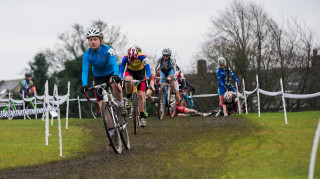 After winning the under-14 title in 2015, Poppy Wildman is favourite to do the same in the under-16s, with four national series wins to her name already. Malvern Cycle Sport's Harriet Harnden could be one to watch, winning in Bradford, along with Welwyn Wheelers CC's Elspeth Grace.
Like Wildman in the class above, Ava May Oxley-Szilagi has already taken the under-14 National Trophy title and will likely battle with Wadsworth sisters Maddie and Anna for the national title.
The event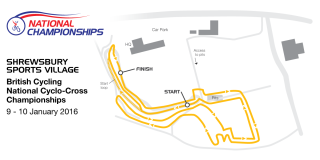 Promoted by Mid Shropshire Wheelers with support from the West Midlands Cyclo-cross League, the 2016 British Cycling National Cyclo-cross championships take place at Shrewsbury Sports Village.
The venue is a regular stop on the National Trophy calendar but will host the national championships for the first time.
Schedule
Saturday 9 January
Race 1: Veteran women 9:30am
Race 2: Veteran men 50+ 11:00am
Race 3: Youth under-16 girls 12:15pm, Youth under-14 girls 12:16pm
Race 4: Youth under-16 boys 1:15pm, Youth under-14 Boys 1:16pm
Race 5: Veteran men 40-49 2:30pm
Sunday 10 January
Race 1: Under-23 men 9:30am
Race 2: Under-23 women 10:45am
Race 3: Junior-men 12:00pm
Race 4: Elite-women 1:15pm
Race 5: Elite-men 2:30pm
How to follow the racing
Report, results, reaction and images on the British Cycling website
Follow @BritishCycling on Twitter for updates throughout the weekend