With five months to go until the first event kicks off, the dates for next year's Go-Ride Conferences have been announced.
The conferences will take place across the country and are free to attend for all Go-Ride Volunteers who are British Cycling members, so get the date in your diary as we have some fantastic content lined up.
We work hard to ensure that our army of Go-Ride Volunteers feel supported so that they can concentrate on helping Go-Ride Clubs to go from strength to strength. Last year over 500 delegates attended the conferences to undertake training, share best practice, learn about new initiatives and discuss key issues of club development.
An exciting schedule is currently being finalised for the 2016 events, with a theme this year to capitalise on the inspiration that will no doubt be created by the Olympics in Rio.
Find your nearest event
Saturday 27 February: Radisson Blu, Durham
Sunday 28 February: National Cycling Centre, Manchester
Saturday 12 March: Hilton, Reading
Sunday 13 March: Marriot, Bexleyheath
Saturday 19 March: Taunton Racecourse
Sunday 20 March: Mercure Brandon Hall, Coventry
"The conferences provide us with the opportunity to thank all the hardworking club volunteers and bring clubs together in a dynamic environment to share best practice and develop regional links," said Stephanie Allmark, British Cycling development manager for clubs and volunteers.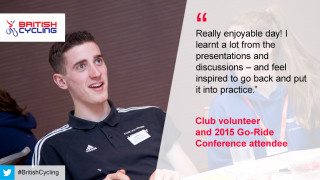 The Go-Ride Club and Volunteer Awards will once again be included at each of the Go-Ride Conferences, so watch out for nominations opening towards the end of the year.
Invitations will be posted out to clubs in December, however if you have any questions regarding the conferences, suggestions for content or would like to register your interest, please contact the Go-Ride team at go-ride@britishcycling.org.uk or 0161 274 2070.