"I think it's going to be one of those things where it will probably flash by and then I'm going to wake up the next day and think 'Hang on a minute, did that really happen?' It's going to be amazing."
It's been an incredible year for Hayley Simmonds. The 27-year-old became British Cycling time trial champion in Lincolnshire in June, overcoming a packed field and beating the likes of Dame Sarah Storey, Katie Archibald and Ciara Horne, with a winning margin of over a minute.
That dominant performance earned Simmonds her first British champion jersey and she admits it still hasn't quite sunk in.
"I smile to myself every time I end up pulling on my champion speed suit to do a time trial. My coach and a couple of close friends that I train with believed I could win it, but I only allowed myself to think about getting on the podium.
"I knew I had great form but obviously the competition was huge. To win by over a minute, I was amazed."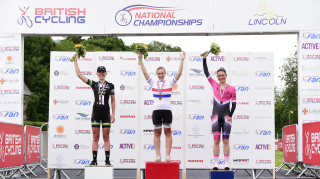 Simmonds's success this season is made all the more remarkable by the fact that she won't make the switch to full-time, professional riding until next year as she's currently juggling training with studying for a PhD in Experimental Chemistry at the University of Cambridge.
Her call-up to the Great Britain Cycling Team means putting the doctorate to one side for a few weeks.
"I'm lucky because my PhD supervisor is really understanding and very supportive of my cycling.
"I could understand if he were a bit fed up of me for asking for time off for various competitions, but he was really happy for me and asking whether they'd be able to watch me on TV in the Chemistry department!
"Representing your country is probably a pretty good excuse for asking for time off!"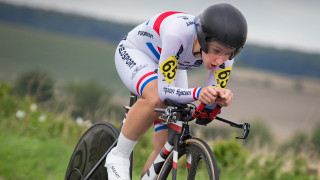 With leave from her studies safely secured, Simmonds's focus is now firmly on her biggest challenge yet.
She admits that she discussed with her coach the prospect of getting a call-up for the UCI Road World Championships at the start of the season, but thought it might be out of her reach.
So, now that she's set to pull on the Great Britain Cycling Team kit for the first time, what are her aims for Richmond 2015?
"I've made a few personal goals, but I'm not sure I want to put them down on paper! Obviously it's my first major championship so I think it's going to be very different from anything I've done before.
"I want to do a race that I'm happy with, I want to try and make sure that I stay focused on me and don't let myself become either overwhelmed or wrapped up in everything.
"Then, for the road race, I want to do the best job I possibly can to support the team. Lizzie Armitstead is in absolutely great form, she's won the world cup again and she's flying, so hopefully as a team, we can do a really good job."
The women's time trial takes place on Tuesday 22 September (6.30pm to 9.45pm, BST) with the women's road race following on Saturday 26 September (6pm to 9.25pm, BST).
Watch both races live on BBC Red Button and British Eurosport 2.