British Cycling policy advisor, Chris Boardman, has spoken of his delight at the positive reaction to a newly-produced short video highlighting the importance of rule 163 of the Highway Code, which states that motorists should give cyclists the same amount of space as they would another car when overtaking.
The short film, fronted by Boardman and funded by the Bicycle Association and British Cycling, explains the need to overtake in a safe manner and respect the 'dynamic envelope' – the exclusion zone which should surround a cyclist riding on the road.
The video has been viewed over 300,000 times in its first seven days online. It has also received support on social media from a host of road safety organisations, police forces, the All Party Parliamentary Cycling Group and Edmund King, President of the AA.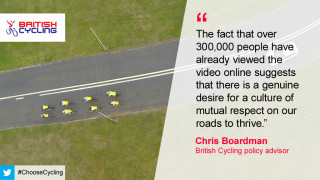 Boardman said: "The response so far has been extremely encouraging. Our aim was to make people more aware of rule 163 of the Highway Code. The fact that over 300,000 people have already viewed the video online suggests that there is a genuine desire for a culture of mutual respect on our roads to thrive.
"Getting more people on their bikes will have a series of benefits for this country, and ensuring that the roads are safe places for cyclists is a crucial step towards this."
Former Olympic champion Boardman is at the forefront of British Cycling's campaign to turn Britain into a cycling nation, lobbying for increased investment in cycling infrastructure and strengthening cycling safety provisions.
The Bicycle Association, the body representing the bicycle industry in the UK, supports initiatives to promote safe cycling and is a partner of British Cycling's Go-Ride programme.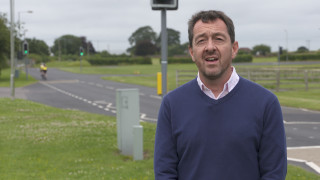 Martin Key, campaigns manager for British Cycling, said: "We were very pleased to support the video, and are delighted to see the impact it has already made across the media and social media channels.
"It is good to see our attempts to raise awareness of the current rules and to encourage a culture of mutual respect on our roads is getting traction. However, it is also vital that this is combined with clear action from government in making our roads and junctions safer for everyone who uses them.
"This will begin with them delivering on the promise to publish a Cycling and Walking investment strategy, with a more joined up approach that recognises cycling as a clean, healthy, mainstream form of transport."
Carlton Reid, editor of the Bicycle Association's BikeHub.co.uk and who directed the video, added: "It's wonderful that the video has been so well viewed, so quickly. The next step is to make it into an official 'public information film' and for the Department for Transport to endorse it and make sure it becomes very widely distributed."