Alice Barnes is in buoyant mood as the UCI Mountain Bike Cross-country World Cup resumes this weekend in Lenzerheide, Switzerland.
The British Cycling Olympic Senior Academy athlete travels after finishing a surprise second at the British road championships – beating established riders and showing her form.
Barnes' last off road race came one month ago, where she competed in the opening two world cup rounds in Nove Mesto and Albstadt.
Racing in the under-23 category, Barnes finished 24th in round one, progressing to 10th at round two – however she still saw significant room for improvement.
Following a sixth place finish at the 2014 Windham round of the world cup series and seventh at the world championships, Barnes admitted that her ambitions were to become a regular top-five fixture and even challenge for the podium in 2015 – an ambition that still remains.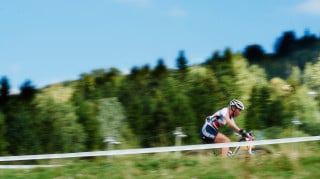 "I have higher expectations" Barnes said of the remainder of her season.
"I did go into round one with quite high expectations off the back of last year but we hadn't got the training dialled so I wasn't totally ready for the top-end racing. I improved my result at Albstadt but it was still quite far off the leader in terms of time."
In order to make up that time deficit Barnes skipped the Glasgow round of the British Cycling MTB Cross-country Series, choosing instead to complete an intensive block of training in Abergavenny.
"The past month I did quite a lot of endurance work and then I had a week camp with lots of mountain biking and motorpacing" Barnes explained.
"At the same time I focussed a bit on diet to become leaner and improve my power to weight."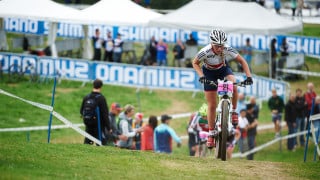 The next challenge was the British road championship, where the improvements were immediately obvious. Barnes made an illustrious front group and won the sprint for second – far exceeding her expectations.
"I thought I came off that training period quite tired, but I was still able to go into the nationals feeling quite good which I wasn't expecting – and I wasn't expecting the result" Barnes summarised.
"I'm really happy with that and that has boosted my confidence massively for the world cup as well."
Barnes now looks to convert her road form into mountain bike world cup results – starting with a top five at Lenzerheide.
"At nationals I felt really good on my bike and I felt smooth and like I was better conditioned for racing. The last time I felt like that was last year at the worlds.
"I'm looking forward to racing. The nationals result is a massive confidence boost and I now want to ride for a top five at the world cup.
"That was my aim going into the first world cup because last year in Windham I got sixth and a lot of girls have gone up into the elite category, but there are girls that have also improved. So it is realistic if everything goes my way."
"That ambition has become normal. I want to be the best so I have to aim to be the best. A couple of years ago if I knew I'd be saying that now I wouldn't believe myself. But I think last year and rides like last weekend – I've proved I can do rides like that and hopefully I've improved again. "