Tre Whyte faces a six-week recovery from two injuries sustained in a crash at the second round of the UCI BMX Supercross World Cup in Papendal, on 8 May.
The British Cycling Olympic Podium Programme athlete was caught out by the wind on the outdoor track in Netherlands, seen by many as the toughest test of the season due to its length, large jumps and unpredictable weather.
Following scans and stitches, Whyte is currently unable to complete any training, but hopes to return to work in ten days and is targeting the UCI BMX World Championships in late July as a starting point.
How it happened
Whyte's crash took place following a gate start in practice, where he attempted to jump into the triple – but was unsuccessful.
"It felt a bit windy" said Whyte, describing the conditions "but I was jumping the triple all day anyway. I hadn't jumped into the triple once at that stage.
"I thought I had slowed down enough to jump into the triple but I hadn't. As I jumped in, I over-jumped and hit the third bump of the triple. I flew out sideward. I pushed my bike away from me and I thought I was going to land on my feet, but as I put my leg out it slipped and I landed on my bottom.
"It was an impact from high up. Straight away I knew – but I never thought it was going to be this bad."
Whyte was taken to hospital for stitches in his buttock and iced his knee so that he could start the time trial superfinal.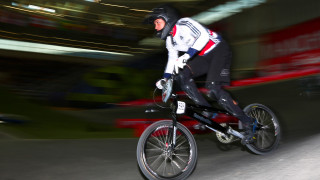 However, Whyte did not complete the lap and was forced to sit out the rest of the competition. On his return home, he learned the full extent of his injuries.
"I have stitches in my buttock," Whyte explained.
"I have torn the ligament on the inside of my right knee – but the good news is that it is not the cruciate ligament. That should take four to five weeks to heal and I don't need surgery.
"Right now I still can't walk, so I am icing my knee as much as I can."
However, even this seemingly simple task is more challenging than it first appears.
"Because of my other injury it is painful to sit down or lay on my back - I'm just having a massive nightmare at the moment.
"My buttock is the main problem – because whenever I move, the wound tries to open. I can't squat. It's irritating.
"Hopefully the stitches come out in ten days and from there the plan is to get into the gym and even ride a static bike as long as I can sit down. Hopefully I can be back for the world championships."
Road to recovery
Such a period of rest has left the man who has progressed from the Talent Team in 2009, to claiming bronze at the 2014 world championships, uncertain about his immediate future.
"I am quite concerned," Whyte expressed, when asked about the enforced rest period.
"I did have a good winter, but time off like this, if you train hard for six weeks then have two weeks off, it's going to catch up with you.
"I'm not the strongest of guys and I do need to keep training otherwise I can lose muscle pretty quick so I am a bit worried. But hopefully I can get back to training soon and get back for the races that count I guess."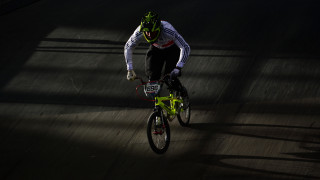 Despite Whyte's concerns, he remains positive that he can salvage his season after his strongest ever start to a supercross campaign – thanks to the support of his teammates Liam Phillips, Kyle Evans and his girlfriend.
"I've been the middle of jokes for a while – I was going to say the butt of all jokes, but I have already heard that one a few times now.
"Right now my lifestyle is prune juice and getting looked after by my girlfriend – but she is doing a great job of putting up with my whinging and feeling sorry for myself."