The Great Britain Para-cycling Team return to track competition at the Newport Para-cycling International from 30 January - 1 February.
A squad of 16 athletes includes four world champions and five debutants who will race with Rio 2016 Paralympic Games qualification points on offer in Wales.
With the 2015 UCI Para-cycling Track World Championships taking place in Apeldoorn in March, the trip to Newport will represent a valuable opportunity for Britain's cyclists to assess their form.
The team
A blend of experience and upcoming talent make up the British contingent. Jody Cundy, Neil Fachie, Sophie Thornhill and Rachel James are all world champions while Steve Bate, Adam Duggleby, Megan Giglia, Sally Hurst and Liz Saul are set to make their debuts.
Dame Sarah Storey is a notable absentee, the six-time cycling Paralympic champion focusing on her hour record attempt on 28 February.
World road champion Corrine Hall will not compete as Great Britain experiment with a new pair - Lauryn Therin stepping in to pilot Lora Turnham.
Jon Norfolk, head coach for the Great Britain Para-cycling Team, said: "The Newport Para-cycling International is a key event for us and as such we're sending a full squad with the exception of Dame Sarah Storey who has chosen to focus on her hour record attempt.
"With this being a qualifying event for Rio, the riders are all keen to put in a strong performance to start momentum.
"It's also a good opportunity to see how we measure up against the rest of the world at this moment in time to identify the areas we need to work on and to help shape our preparations for 2016."
Friday 30 January
Men's and women's tandem kilo, mixed team sprint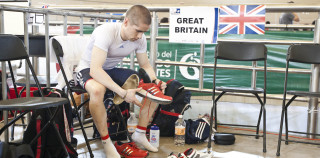 Competition at the Wales National Velodrome starts with the men's and women's tandem kilos. Neil Fachie and pilot Craig Maclean will link up in the men's event having collected one of their two gold medals for Scotland in the discipline at the Commonwealth Games.
Both are Paralympic champions, albeit with different partners, while 30-year-old Fachie is a reigning world champion with Pete Mitchell over four laps.
British Cycling Paralympic Podium Programme athletes Steve Bate and Adam Duggleby will make their first appearance on the track with Great Britain.
In the women's event, double world champions Sophie Thornhill and Rachel James are reunited having been separated for the Glasgow Commonwealth Games.
Thornhill, who is visually impaired, soared to two world titles last March - in the tandem kilo and sprint - with James as her pilot in Mexico.
The 18-year-old added two Commonwealth gold medals for England with Helen Scott as James competed for Wales.
Lora Turnham and Lauryn Therin make-up the second of two Great Britain pairings in the kilo.
Turnham is time trial world champion on the road with Hall while Therin has switched from sprint to endurance.
In the mixed C1-5 team sprint, Great Britain will choose two from the experienced Jody Cundy, Jon Gildea and Louis Rolfe to join Crystal Lane.
Saturday 31 January
C1-5 men's pursuit, men's and women's tandem pursuit, C1-5 women's 500m time trial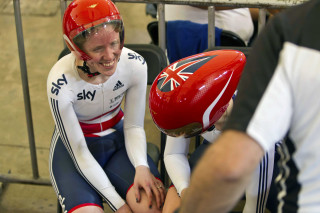 Louis Rolfe (C2), Jody Cundy and Jaco van Gass (C4), plus Jon Gildea (C5) race in their respective men's pursuit categories.
Neil Fachie, Craig Maclean, Steve Bate and Adam Duggleby all return to the boards for the men's tandem pursuit.
It is a similar situation in the women's tandem pursuit with the paring of James and Thornhill as well as Turnham and Therin racing for a second consecutive day.
The C1-3 500m time trial will see 29-year-old Megan Giglia (C3) and 36-year-old Sally Hurst (C2) on track while in the C4-5 event, Crystal Lane (C5) and Liz Saul (C4) will have medal aspirations.
Sunday 1 February
Men's and women's tandem sprint, women's C1-5 pursuit, men's C1-5 kilo, men's 10km scratch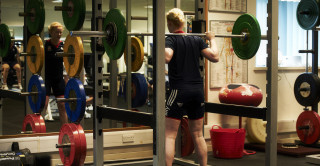 Commonwealth champions Craig Maclean and Neil Fachie will face a third day of racing as they race in the men's tandem sprint.
Rachel James and Sophie Thornhill also have the opportunity to add to their medal collections in the female tandem sprint.
In the men's kilo, Louis Rolfe will swap endurance for sprint in the C1-3 category. World champion Jody Cundy is one of three British riders in the C4-5 event, with Jaco van Gass and Jon Gildea.
Gass and Gildea will also race in the men's scratch race.
Twenty-five-year-old Liz Saul contests the C4-5 women's 500m time trial along with Crystal Lane.
The women's individual pursuit will see four British riders across four categories in Sally Hurst (C2), Megan Giglia (C3), Liz Saul (C4) and Crystal Lane (C5).
The venue
The Wales National Velodrome in Newport is home to Welsh Cycling and has hosted the Great Britain Cycling Team ahead of the London, Beijing and Athens Olympic Games.
The covered facility was opened in 2003 and houses a 250-metre Siberian pine track.
Coverage
Reports, results and images will appear on the British Cycling website.
You can also follow British Cycling on Twitter @BritishCycling for updates.