Road To 2012
Olympic Development Programme Induction
Homepage: Road To 2012 | British Cycling's Performance Programs Explained | Join Team GB
---
Annie Last, Jason Kenny and Geraint Thomas – all products of British Cycling's Olympic Development Academy – and as the class of 2011/12 were inducted, Luke Webber talked to coach Matt Winston on the coming year.
Fresh from success at the Road World Championships – where Lucy Garner won junior gold – the latest intake of future champions to British Cycling's Olympic Development Programme have a high standard to adhere to.
But despite a history of success at the highest level, ODP coach Matt Winston will continue to follow an ethos of development, progress and performance, rather than a result-driven Programme.
"That's different than trying to win all the time" he explains. "It's about the development of the rider going forward and if we win something along the way that's great."
And that's why, as Garner returned to the National Cycling Centre for her second ODP induction camp, there was no special treatment or exception made.
"Lucy is World Champion, but she wasn't used as an example of any kind on the camp because it's just a step on the way to bigger things. Winning isn't what we set out to achieve, but with the work we do and the way the Programme runs, that can be an outcome.
"Winning big races does reflect well on Programme though and we have a history of it. Twelve months back Simon Yates and Dan Mclay were madison World Champions, Geraint Thomas became points race World Champion, so we have produced riders over time."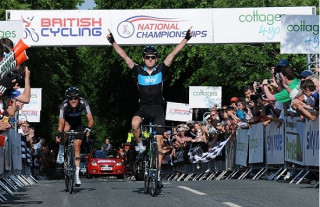 Geraint Thomas - from the ODP to 2010 British Road Champion and Grand Tour regular
ACADEMY ALIGNMENT
But Winston cites the primary objective of the ODP as preparing young cyclists for British Cycling's Olympic Academy, which has produced some of Britain's greatest generation of bike racers, requires a full-time investment and the lifestyle skills to live independently. As such it is this progression that takes equal priority to physical development as the commitment intensifies from Talent Team to ODP.
Ultimately, it is down to the individual to become independent and if that transition isn't made it will influence selection for the Olympic Academy, Winston says.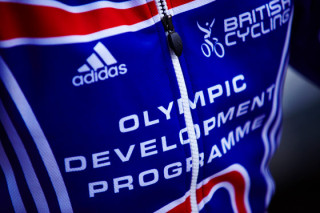 "The difference between the Talent Team and ODP is that we're a lot more focussed. The Talent Team is fantastic at giving riders the chance to find out what it's like to be a part of a British Cycling Programme, what it's like to be on camp, but once you get to ODP the riders come to us with good skillsets and we look at polishing the finer points.
"There is a lot more coach to rider contact over coach to parent contact, as individuals become more responsible for driving their own programme and their own ambition. That's what we look for – a rider to want it themselves. It is a cornerstone of the Programme. We have to strike that balance - if a rider is to move onto the Olympic Academy they are living on their own – they have to start showing that maturity. Sometimes it can decide a riders' future on the Programme. Likewise it's important each rider stays level headed. Just because they are on the ODP doesn't mean they have made it, they still have a long way to go and that's what we focus on."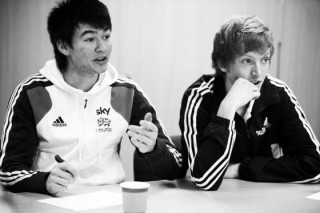 In 2010, ODP athlete Grant Ferguson spent a week with the Academy; today he's a a part of the full time programme.
THE INDUCTION CAMP
During the week-long induction camp, the latest ODP intake – from mountain bikers to track sprinters – trained together, with the second-year athletes setting the example to follow.
Alongside a series of road rides which increase in volume and intensity, there are also workshops, ranging from lifestyle balances, what's expected of a rider and what the Programme is about, as well as a mechanics session.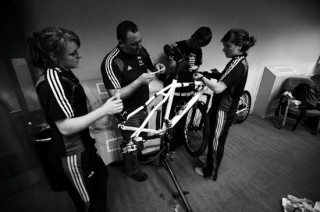 Learning how to fix your bike is another integral part of Academy life, and the ODP serves to prepare junior riders in the best way for the more advanced sessions that follow.
Future camps are more specific with the mountain bike and BMX Programmes holding their own events, while the endurance and sprint riders attend a development World Cup which replicates a complete World Cup schedule, at which performance benchmarks are established.
Meanwhile, Winston explains every rider is treated as an individual.
"They will send in their training diary every week and their coach will have regular phone contact. It's personal to each rider as to what they need. Although we are looking at getting every rider to the same benchmark every journey will be different; the idea is to get to the new year with every rider at a good basic level.
"I'm excited to see how these riders progress next year. The best thing about the riders we have is they are keen to learn and develop so we are in shape for a good year.
"Looking back at past ODP riders present day success, I think that's why they were on the Programme. When today's riders mature and progress they have a good chance of being in the Tour de France, or winning Olympic medals. That's not to say those not on the Programme can't do it, but these riders selected show the potential to progress through our Programmes; and that's what we're about."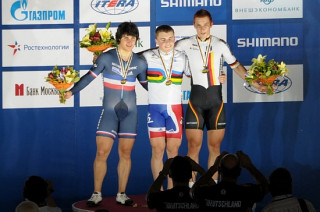 John Paul completed his time at the ODP winning the junior sprint World Championship
British Cycling Olympic Development Programme 2011/12
Endurance
Jonathan Dibben (Year 2)
Chris Latham (Year 2)
Harry Tanfield (Year 2)
Sam Lowe (Year 2)
Lucy Garner (Year 2)
Amy Roberts (Year 2)
Elinor Barker (Year 2)
Hannah Layland (Year 2)
Oliver Wood (Year 1 – moves up from Talent Team)
Chris Lawless (Year 1 – moves up from Talent Team)
Tao Geoghegan Hart (Year 1 – moves up from Talent Team)
Emily Kay (Year 1 – moves up from Talent Team)
Sprint
Matthew Rotherham (Year 2)
Mountain Bike
Iain Paton (Year 1 – moves up from Talent Team)
Alice Barnes (Year 1 – moves up from Talent Team)
Stuart Wilcox Year 1
Mike Thompson Year 1
Beth Crumpton (Year 2 – moves up from Talent Team)