Published: 18 October 2011
Report: Pete Maxwell
---
British Cycling members received this feature first straight to their inbox in our weekly 'Member News'. Each week the newsletter contains the biggest names in British Cycling, bike maintenance tips, ride guides, health and fitness information, training tips, commuting advice as well as offers and discounts on cycling products such as CNP and Gatorade.
---
In the second part of our exclusive chat with Chris, we started by asking him the big question. How does he think the new Road World Champion Mark Cavendish will fit in at Team Sky?
"It's going to be quite a challenge. I think you'll possibly find that Mark will operate in a different way in that he won't have an entire team. At HTC he was successful because they didn't have a Plan B. Tony Martin would be there for time trials, but they just said 'Right, we're going to win stages'. They put their whole team to work to that effect and I don't think you're going to have that again at Sky so he will work in a different way. But I think he proved at the Worlds in the latter part of the race that he can take advantage of the opportunities whether he's got a team there or not in the last few hundred metres."
Member News – Does it simply come down to the fact that if you're the fastest guy in the world, and he is, you know where to be at the right time, regardless of whose wheel you're on, he can get in the best position to win a race?
CB – I think the biggest challenge is not the makeup of the team, I think it's his own success. He may very well fall victim to the same way of thinking as Cancellara when everyone knew this guy was the strongest of the classics and there was hardly anything they could do so they had to write negatively to stop it happening. We saw a scenario at the Commonwealth games, where it was clear that when it comes to a sprint, there's no chance of anyone, even on his worst day, that anyone is going to win other than this guy. They kept breaking up the race and they'd look around and go 'Cavendish is still here, keep chasing'. They quickly got rid of his team and then he was on his own, he did a couple of chases on his own and then he was spent, so he can't chase everything and that's his biggest problem. Because he's such a stand out best and the fastest man in the world, unless other people believe they're in with a shot, they're not going to put their teams in to work for a sprint finish.
MN: His old mate, Bradley Wiggins has done alright this season too. He's recently been quoted as saying he thinks he can ride both track and road next year. Possible?
CB: Yeah, but it'll depend what he wants to do, even at the World Championships, it depends who is emotionally up for it. He will go to the Tour de France and that will be his focus, and then he'll come out of the Tour de France at 80% form probably and he'll have a week to back off before the Olympic Games. It's risky; he broke his collar bone this year but I think that's the right prioritisation for him as an individual though, for his career, and I think if he wants to, he'll be able to do it.
The team pursuit is a much bigger ask, and it's a big ask of the organisation to bet on that individual to be able to go from two totally different types of racing in such a short space of time. It's a big, big call, I'm not sure I would think that's a great idea, but let him have the individual time trial spot and take a risk, why not? Bradley's got the preparation, and the Tour de France will lend itself to a time trial and the form will be there for the road race if he wants to do it as well.
MN: Well the Road Race Test Event for the Olympics looked to be a success. What are your thoughts on the course?
CB: It's a different challenge to Copenhagen, there are a lot of similarities, a lot of flat sections involved, and the hill is no great shakes, but it's three or four times more as tough as they had at the Worlds so that's going to offer an opportunity. There's some fairly tight roads around it that you're going to be five riders a breast, so positioning is going to be critical. More than ever now there's an awful lot of people that do not want it to end in a bunch finish, so from a GB perspective you've got four or five guys there with who can influence a race, but certainly can't control it. So what you got you in Copenhagen, you won't get in London, but the same philosophy of how you approach a challenge will apply, but the same plan won't.
MN: Of those GB guys there, Geraint Thomas probably won't be there due to his track commitments. Is he integral to that pursuit line up?
CB: I don't know the exact plans but it can sorely impact the team pursuit if you can't have him in the team pursuit event. You desperately need him to be there, he's one of the key players when he's at his best. I think there's enough strength and depth, but if Bradley's not there and you take Geraint out, it's going to have quite an impact. You've got Ed (Clancy), Burkie (Steven Burke), Geraint and 4 or 5 other guys that could legitimately fill that spot, but you need those 3 core riders there first and foremost.
MN: The fact that we are so strong on both road and track now has meant that people really are taking up cycling and getting out on their bikes. We've just reached 40,000 members and it's great to see that people are contributing to our great sport isn't it?
CB: The participation part is the part that fascinates me the most actually, that's the bit of cycling that I'm most passionate about. It's people using this thing to use as family time and as a form of transport. So it's a bit curious me being at home and being involved in the performance side, but riding is the part that I'm most passionate about. The impact that things like Sky Ride has had alongside the publicity of a successful team (Team Sky) performing well has been huge. It's an unprecedented time and the organisation needs to capitalise on it hand over fist.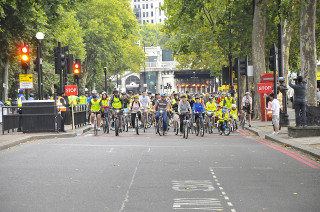 MN: Times are definitely changing. Gone are the days when Bike riding was geeky…
CB: Cycling's changed, you see guys now with jeans and a sports jacket and they're going out for the evening and they go on a single free bike, narrow bars, and that's a cool mode of transport. Cycling has become cool, and that's absolutely critical.
MN: Commuting is very popular now. There are a huge number of people who use two wheels to get to work nowadays?
CB: I think there's an impasse coming now, despite the environment that you're having to ride in, people want to ride. The problem is there's a fine amount of road space, we live in an old country which has been built up and the buildings are where they are, and so the road space is a fine amount - such that you can't spread out and you've got competing forces unfortunately. People that have a problem with cyclists are unfortunately focusing on the peas and not the stakes. It's a good sound bite that one! It's another one of Dave's (Brailsford's) sayings and it's true.
MN: Finally, do you think we could see a change in approach to the way people view cyclists in the future?
It's actually that, what we're talking about here is culture change, and culture change is never fast, I mean, it's decades, not months and it almost always involves pain, so what you see now is actually culture change starting to happen because now it's acceptable to have lots of cyclists mixed in with the traffic. So what's the next step? You won't do it in one go, you do it in tiny bits, and now you've got upwards pressure from people that want to move around in different ways. I don't categorise it as you've got motorists and cyclists, they're not breeds that we need to work round in different ways, more of a preference for people to move around in a certain way that creates pressure.
To finish the interview he simply says: "I always stop people that say I'm a cyclist "I don't represent cyclists, I'm an individual and I'm choosing to travel this way."