---
One year after London 2012 lit up the sporting world, Sir Chris Hoy is looking ahead to a bright future for cycling, building on the tremendous momentum created by the London Games.
Above: Sir Chris Hoy carries the union flag at the unforgettable London 2012 opening ceremony
British Cycling spoke to the six-time Olympic gold-medallist as he prepared to mark one year to go to the 2014 Commonwealth Games in Glasgow, a doubly fitting time to reflect on the glory of 2012's golden summer of sport.
Hoy was one of the leading lights of the British team both figuratively and literally, flag bearer at the opening ceremony before leading the track cycling team to dominate competition in the Olympic velodrome, winning two gold medals in the process. Unsurprisingly, Sir Chris had no shortage of abiding personal memories.
"Carrying the flag at the opening ceremony and the feeling when walking into the stadium and the noise erupting when the team entered," recalled Hoy. "Until that point it had been a tough four years between Beijing and London. I'd had injuries, disappointments, defeats and setbacks.
"It had been a bit of an up and down journey. Getting to the point of carrying the flag and leading the team into the stadium at a home Olympics, I realised then that the four years of hard work had been worth it just to do that.
"In a way it took the pressure off the racing because I thought, no matter what happens now it's been worth it for this moment alone."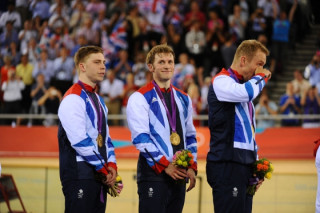 Above: An emotional Hoy on the podium with fellow team sprint gold medallists Philip Hindes and Jason Kenny.
When it came to his on-track memories, Hoy was in no doubt as to his highlight, one he shares with millions of British sport fans – his final, dramatic gold medal in the keirin, when, in the words of Shane Sutton he "snatched victory from the jaws of defeat" overcoming Germany's Max Levy in the final and breaking Sir Steve Redgrave's record gold medal tally.
"After my final gold medal in the keirin I was really able to absorb it all – realise it was the end of my Olympic journey, the end of the four Olympic games I'd been to – Sydney, Athens, Beijing and London. It was just a very emotional moment when I stepped on the podium and realised that was the end of it all."
Hoy's 2012 began with gold in the team sprint alongside Philip Hindes and Jason Kenny and it was Kenny's sprint gold that Hoy highlighted as the most impressive Great Britain cycling performance of the Games.
"In a team where there are so many stars and so many amazing performances on the track, road, mountain bike and BMX it's easy for gold medals to get overlooked. Jason's didn't perhaps get the recognition it deserved.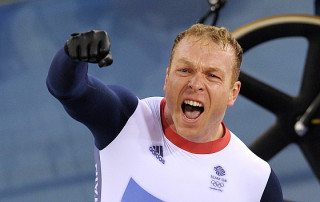 Above: Hoy celebrates his final Olympic victory - overcoming Max Levy of Germany in the final few metres of the keirin final, perhaps the defining 'Hoy moment'?
"His rides - he never looked like anyone was going to threaten him from round one right through to the final. He disposed of [Gregory] Bauge with relative ease. It was an amazing performance."
London 2012 was always about much more than sport; regeneration, community, identity, achievement and optimism; something that Hoy was keen to point out.
"The way the public reacted to it was incredible; union flags all around, people smiling, talking – just the atmosphere, the feeling of pride was beyond what everyone expected.
"We all expected a fantastic games but it was way beyond that and even a year on now there's definitely still that afterglow, that feeling of optimism in a time when everyone was getting down because of the economy and everything else."
Above: Hoy bids farewell to track cycling and looks ahead to new roles and new opportunities in a cycling landscape forever changed due in no small part to his team's efforts at London 2012.
The momentum created by London 2012 has perhaps been felt in cycling as much as in any other sport or pastime, with the year following the Games seeing cycling hit the mainstream and British Cycling membership surpassing 75,000. More than participation figures, Hoy sees the shift in attitude toward cycling as London 2012's biggest legacy effect.
"British Cycling gets taken seriously because it delivers – it's produced champions, it's produced facilities, it's produced this infrastructure and the sport is blooming. It's been years and years of hard work by lots of people."

Chris Hoy on the British cycling landscape, post London 2012
"The biggest thing we have to show from the Games is a generation of young kids whose first exposure to the sport is seeing British riders winning gold medals," Hoy said
"They're not growing up thinking we're second class in sporting terms. They believe that we can do it and to have that belief and that confidence is a big part of that winning mindset.
"Aside from all the political discussions about facilities and all those legacy questions the biggest legacy we have is that shift in attitude."
Hoy sees this winning mindset pollinating all aspects of cycling, from sport to utility cycling, evidenced by British Cycling's growing reputation as a governing body for cycling in a truly holistic sense.
"British Cycling gets taken seriously because it delivers – it's produced champions, it's produced facilities, it's produced this infrastructure and the sport is blooming. It's been years and years of hard work by lots of people.
"We now have more clout as an organisation and the big test for that will be to see if we can improve the state of the roads. Cycling is becoming so popular now that we really need to do something to make it a safer environment."
A year on from London, cycling's momentum is stronger than ever. Speaking just a day after Chris Froome's Tour de France victory and a day before the countdown to Glasgow 2014, Hoy affirmed his ongoing involvement in the sport and his confidence in Britain's position as a cycling nation.
"London cemented British Cycling as the top cycling nation in the world along with Bradley's win in the Tour and Chris' win this year. We've got so many young riders coming into the team – it will take a couple of years for them to make it through to the highest level but I'm sure by Rio the team will be back to being the best in the world.
"With the athletes we've got and the support we've got there's no reason why we can't do a similar job."
Sport moves on quickly and Hoy is looking ahead to 2014 and his mentoring role for the Scottish team.
"It's something I'm really looking forward to getting my teeth into – it's not like a coaching role where you're there day in day out.
"It's more about being there and available to the athletes to answer their questions about preparations for the event and dealing with the pressure. Hopefully I'll be of some use to the athletes.
"It's just nice to get involved and stay involved and I think that role will grow as the years go by."
With the experience of four Olympic cycles behind him culminating in the pressure cooker of London 2012, there can be few better sporting mentors to guide the next generation of athletes toward further cycling success.