---
British Cycling today set out ambitious plans to get one million more women riding bikes by 2020 at an event hosted at the Department for Culture, Media and Sport in London.
The new strategy, supported by Culture Secretary Maria Miller, Sport England and British Cycling's Principal Partner, Sky, covers getting more women into the sport at all levels from recreational riding and racing to volunteering and sitting on British Cycling's Board.
"We are not saying we are going to be perfect, far less that we are perfect now. The direction of travel is important: our ultimate aim is to inspire one million more women to get on bikes and we are determined to make this happen."

British Cycling President Brian Cookson OBE
British Cycling's President, Brian Cookson OBE, said:
"At British Cycling, in partnership with Sky and Sport England, we have never been scared of a challenge, nor of setting ambitious targets. Whether it is winning eight gold medals at a home Olympics four years after the triumphs of Beijing, producing the first British winner of the Tour de France or getting a million people cycling, when we set ourselves goals, we set about them with seriousness and purpose. We are not saying we are going to be perfect, far less that we are perfect now. The direction of travel is important: our ultimate aim is to inspire one million more women to get on bikes and we are determined to make this happen."
Double track world champion Becky James:
"Knowing that my success can inspire other young women to get into cycling makes me feel really good. The performances of our female riders at Beijing and in London have already made a difference, now we just need to see more women doing everyday cycling and enjoying our amazing sport for all that it has to offer."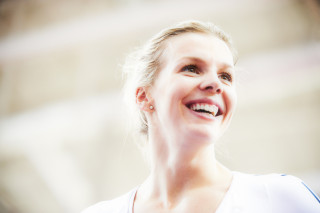 GB cycling team Olympian Jess Varnish said:
"If we can realise this ambition it will go a long way to refreshing cycling's image so it is not seen as a sport only for men in lycra. The best thing about cycling is that anyone can do it, and in whatever form they like. I'm looking forward to seeing more women riding bikes and, most importantly, enjoying every moment."
Speaking at the event, Secretary of State for Culture, Media and Sport, Maria Miller, said:
"Cycling in Britain is in great shape after a fantastic London 2012, and it is fantastic that the sport wants to go further and get more women on their bikes. The likes of Becky James and Jess Varnish will inspire many other young women, and British Cycling's plan shows that it is a sport that women can embrace at every level."
The key changes that sit at the heart of British Cycling's new strategy include:
Building on the success of traffic free, mass participation events, Sky Ride, and British Cycling's female led rides, Breeze, to encourage more women to take up recreation cycling with other women, their partners, families and friends;
Continuing to campaign for safer roads for all cyclists to help overcome the safety concerns that 30% of women identify as the main barrier to taking up cycling;
Setting up entry-level racing opportunities for women to compete at key facilities across the country, including establishing 'get into cycle sport' coaching sessions;
Working to influence more event organisers to put on women's events to run alongside men's races;
Establishing a National Youth Forum with equal male and female representation to feed into British Cycling's work to inspire young people to take up the sport;
Recruiting more female coaches, volunteers and officials into the sport to ensure more women are influencing and running the sport at the grassroots;
Working to ensure that British Cycling's board is more representative with plans to recruit three Board members as soon as possible;
Embedding our strategy in all of British Cycling's work and outputs including ensuring that our website, membership offer and branding is appealing to women;
Looking at how we can better promote our free expert advice, cycling routes and Social Cycling Groups network to demonstrate how easy it is to get involved.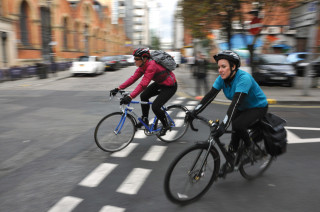 The launch event at the Department for Culture, Media and Sport included a launch speech from Maria Miller, a Q&A session with Becky James and Jess Varnish as well as a panel session featuring British Cycling's Kirstie Moore, Sport England Board Member Clare Connor OBE, Shelley Alexander (BBC Sport's Editorial Lead on Women's Sport) and Sue Tibballs (Chief Executive of the Women's Sport and Fitness Foundation).
Sport England Board Member, Clare Connor OBE, said:
"It is great to see British Cycling setting itself this ambitious target to get more women involved in cycling. Last year we saw half a million more women take part in sport every week. By listening to the needs of women and addressing the barriers stopping them from taking part we will continue to close the gender gap in sport and ensure women's sport continues to thrive."
Tricia Thompson, Sky's Director of Cycling said:
"Our Sky Ride programme and support of GB cyclists has already inspired many people back into the saddle and we will continue to support British Cycling in their work to get more females on bikes. We have a real opportunity to inspire more women about cycling and to get on their bikes in run up to the 2016 Olympics."
Women's Sport and Fitness Foundation (WSFF) Chief Executive, Sue Tibballs, said:
"London 2012 marked a turning point in how women's sport is viewed in the public eye and this is in no small part due to the astonishing performances of our female cyclists. WSFF is pleased to see British Cycling working at the grassroots and elite end of cycling to level the playing field in what has traditionally been a male-dominated sport."
GB Para Cycling Team Paralympic pilot and London 2012 medallist, Helen Scott, said:
"As a proud female cyclist, I welcome this new cycling strategy for women with open arms. The thought that I have helped to inspire more women to get on bikes is fantastic, and I hope that this new enthusiasm for sporting women continues to grow so that we can not only reach our target but surpass it. That would be a revelation for women's cycling."
How the new target will be measured

The new target will be measured using British Cycling and Sky's Annual Cycling Survey. Sport England's Active People survey will be taken into account but, as that survey only measures recreational cycling in England, it won't provide the full picture.
To count towards the one million target, respondents to the Annual Cycling Survey must meet the following criteria:
be a regular (once a month) or frequent (once a week) cyclist; be cycling more now than last year;have been influenced by British Cycling programmes to cycle more.
Since 2009 British Cycling and Sky have influenced around 430,000 women who are cycling more regularly as a result of our programmes. So, by 2020, we want this figure to be at least one million more.
The Annual Cycling Survey is conducted for British Cycling and Sky by GFK NOP and typically uses a sample of 10,000 adults (16+). A sample of 10,000 provides a high level of accuracy – for example a figure of 5% would be accurate to within +/- 0.4.
The research is conducted online, using samples from market leading panel providers. In order to add to accuracy of the sample, the data is weighted to reflect the overall demographic balance of the population. As a further failsafe, the researchers will weight the survey to a profile of cycling behaviour taken from a nationally representative sample of 2,000 adults questioned via a face-to-face omnibus survey.
The current landscape in numbers:
525,000 women in England currently cycle at least once a week and in the last 12 months alone there has been a 63,000 increase in the number of women cycling regularly;
Just under 1.2 million women in England cycle at least once a month;
Since 2009, Sky and British Cycling's programmes have influenced 430,000 more women to cycle regularly. By 2020, we want this figure to be at least one million more.
21,000 women have participated in Breeze – our initiative that offers female led rides for women - since it was set up in June 2011;
160,000 young women have participated in grassroots cycling through our Go Ride – youth development – programme since 2009;
13,900 women are currently members of cycling clubs across England, Scotland and Wales;
Over 5,000 women are currently signed up to British Cycling's Social Cycling Groups network and over 4,000 have organised rides;
10,000 women are currently members of British Cycling. Our aim is to get this up to 26,000 by 2016.