---
At the start of what will be one of the biggest ever years in the history of British Cycling, I've resolved to revive my blog and keep everyone regularly up to date with what I'm up to. It'll be an informal mixture of reports, reflections, opinions and comment, none of which should necessarily be taken as the official stance of British Cycling – just the musings and mumblings of me personally. I'll also try and illustrate it with some photos to keep it interesting and illuminating – some of these will be from my camera phone, so don't expect the professional standard that you find elsewhere on the British Cycling website.
So what have I been up to recently? Some of the issues I've been dealing with relate to the UCI, where I'm a member of the Management Committee and was appointed as President of the Road Commission last September. The latter involves all international road racing with the exception of the World Tour Calendar events and the UCI ProTeams, i.e. the top tier, which has its own commission, the Conseil du Cyclisme Professionel, CCP, or Professional Cycling Council, PCC. I've been over to the UCI headquarters in Aigle, Switzerland for an initial briefing and am slowly picking up the reins of that aspect, working with the very competent and experienced staff of the UCI.
One aspect of this has been in the news recently. You may have read about the difficult state of the women's road scene, particularly the low (or non-existent) salaries of riders on teams. UCI President Pat McQuaid has asked me to lead a review of this matter, and over the next few months I'll be spending some time talking informally with interested parties. There won't be a big song and dance, it'll be a low profile review. I can't promise a magic wand to sort the matter out once and for all, but I will keep an open mind and listen to as many points of view as possible.
Also earlier this month, we heard the news that France's Gregory Bauge had been disqualified from the world sprint title that he won last March. In theory this should mean Great Britain's Jason Kenny is now world sprint champion, but I understand that Bauge is appealing to CAS, so the matter may not yet be that simple. I'll certainly be keeping a close watch on that situation. We are hoping to present Jason with his gold medal and rainbow jersey at the Track World Cup in London in February.
On the home front, the relentless schedule of meetings and the deluge of emails goes on, as ever! Last week I met with our Chief Executive Ian Drake to discuss a number of matters, including the preparation of our next Whole Sport Plan that will take us beyond the current funding cycle and the London Olympics and up to 2017. We're making brilliant progress on many fronts now, but we need to ensure that we keep delivering the outcomes that our funders, our sponsors and our members want us to deliver, to keep our sport developing healthily. I'm confident that we can do that, but there is a massive amount of work ahead for Ian, for his staff, for the Board and for all our many, many, volunteers in the regions and in clubs, out there making it happen. It's a good job we love our sport!
Meanwhile, I've managed to get out on the bike a few times, despite the weather, and here's a photo of me a couple of weeks ago, on a damp and misty three hour ride, at the summit of the Trough of Bowland, snug (and smug) in my Team Sky rain gear.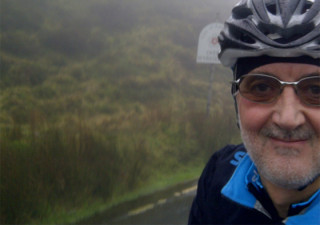 This last week however, things have been looking up a bit and I've been paying a visit to the British Cycling and Team Sky Training Camp at the Vanity Hotel Golf in Alcudia, Mallorca. This super hotel has been booked exclusively through most of December and January for the use of both squads, and it seems to be working pretty well.
The first day I arrived I was picked up at Palma airport and ferried to the hotel by minibus, along with four members of the women's endurance squad who were going to be putting in some serious miles during the next few days.
After a warm welcome from the reception staff and a quick bike build, I joined up with a small group of other back-up staff and visitors for a short ride. Familiar faces included two ex-pros - Team Sky race coach Bobby Julich and directeur sportif Steven de Jongh. Both not long retired from the peloton and clearly in reasonable shape – reports had already reached me that the latter was so fit that he could probably still cut it as a pro! Levelling things out a bit were two of British Cycling's new partners from the well-known coaching company Training Peaks, Gear Fisher and Dirk Friel, the latter also an ex-elite rider who had ridden the Tour of Britain back in the nineties. A reasonably swift couple of hours followed, and I'm proud to report that I managed a good twenty minutes on the front with 1998 Tour de France podium finisher Bobby Julich (my old technique of asking a short question that requires a long answer when approaching an uphill stretch, came in useful as ever).
Next day I jumped in the team car with Steven again and mechanic Igor to follow Bradley Wiggins and a group of others including Luke Rowe, Rigoberto Uran, Xavier Zandio and new Colombian signing Sergio Henao, as they did some steady efforts and some big pulls up one of the ascents to Lluc, one of the biggest climbs on Mallorca. Some impressive stuff.
At the top there was a regrouping, a quick stop to put on warmer clothing for the descent and a little refuelling. Oddly enough, five minutes later, a Katusha team car appeared from the same direction, closely followed by a group of their riders. You might imagine a stand-off situation...but in fact the Katusha riders seemed to be mainly Spanish and well known to the Sky riders, so there was a quick bit of hand-shaking and friendly banter in Spanish before the teams went their separate ways.
At that point I swapped cars and joined Rod Ellingworth and two colleagues from new saddle supplier Fizik, heading straight back to the hotel. That gave me the chance to get a swift couple of hours in on my own, with a nice ride around the bay, through Puerto Pollenca, and up the first climb towards Formentor, with a diversion up the old road to the derelict tower at the top, rewarded by the stunning view below.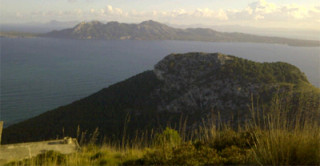 A gentle ride back, with more brilliant views across the bay in the crisp January sunshine.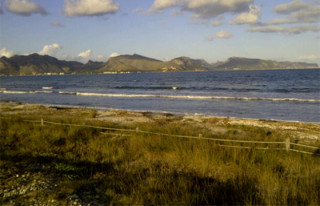 Later that evening Shane Sutton also arrived, looking somewhat bedraggled. Having been met at the airport he nevertheless insisted on riding his bike all the way across the island from Palma to Alcudia in the dark and rain, to check out a route for the team pursuit men later in the week – wow, even our coaches are hard, hard men!
Day three, and I decided on a big day – if it was good enough for the pros, it was good enough for me – so I resolved to ride out alone through Pollenca, over Lluc, down to Sa Calobra and back, which I reckoned would take me about four and a half hours. In the end, it turned into a bit of an epic, lasting over five hours. It was a bit colder than I anticipated, the morning sun had deluded me into going without gloves or overshoes, and some of the corners where the sunlight hadn't reached for a few weeks were more than a little greasy, so I took it easy on the descents, taking the rain jacket on and off to keep warm.
And what a descent it is down to Sa Calobra – surely one of the finest anywhere, and equally great as a climb back in the opposite direction, if you have the legs and lungs to do it justice (I don't, really). Fantastic views all the way and a superb little cove at the bottom, clearly a major tourist attraction in the summer, but deserted at this time of year. Fortunately one of the cafes was open, so I sat by the sea and had a warming cappuccino and a huge piece of chocolate cake.
If I don't look too happy in this photo, it's probably because I'm thinking of the 9.5km climb back to the summit!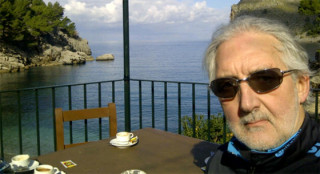 Anyway, I took things easy on the way back up, which was just as well. About half way up I heard a motorcyclist coming up behind me, but then suddenly there was a scraping noise, I looked round, and there he was in a heap in the middle of the road. I turned round and it was clear he was in some difficulty, so I did my best to help him. The motorbike was one of those massive BMW tourers and it had fallen on his leg, causing what was pretty clearly a break below the knee. He was German, and had hired the bike in Palma, didn't speak much English, and we were miles from the nearest town on a semi-deserted holiday island, out of season. Nasty.
I helped him pick the bike up, him hopping and struggling with the pain and me slipping around on my cleats. I never realised those big BMWs were so heavy, it was a real struggle. Anyway, we eventually got it up and rolled it down the hill and into the side of the road a bit. By this time I could see that the pain was really getting through to him, not surprisingly, and I was starting to get a bit cold too. We struggled to understand each other, as he seemed not to want to call the emergency services.
Fortunately at that point, two cars came up the hill, and the occupants turned out to be two German couples. At that point, I made my excuses and left, as they say. Well, they were much better placed to help their compatriot than I was, which of course they recognised.
As I got nearer the top another motorcyclist appeared, going down, this time with the recognisable and friendly but slightly frozen-looking face of Shane Sutton on the Team Sky motorbike. I warned him about the crash and continued up, then as I was on the last stretch the group of pros approached, led by Bradley Wiggins, and they all gave me a wave and a shout of encouragement (at least I think it was encouragement!).
The ride back to Alcudia was then mostly downhill but, after seeing the motorcyclist fall off and break his leg, I took all the corners very cautiously. I was half way back before I saw an ambulance with blue lights flashing, heading out towards Sa Calobra – it must have been more than an hour after the crash by the time it got to the poor guy, which caused me to think very carefully before taking any risks on the twisting descents. All in all, I was pretty tired by the time I made it back to the hotel, but at least I got there before the pros, which cheered me up considerably.
And I was even more heartened when Dave Brailsford mentioned in the staff meeting that evening that I had done five hours on the bike, on my own – it impressed my colleagues and apparently even certain of the pros were surprised too. I heard that, when told what I'd been up to, Rigoberto Uran expressed the view that "El Presidente – solo cinca hours en la bicicletta? Este hombre esta completamente loco!" Which I am assured means something on the lines of "What a formidable achievement" and is considered the highest possible praise in Colombia. Well, probably.
Time then also that evening for a short chat with the girls about the future of women's road racing – mainly for me to listen to their views, as I said – I don't have any magic answers, I want first of all to listen and learn, to hear as much as I can about the issues before I even begin to think about what the solutions might be.
A quick hello also that evening to the team pursuit guys who had arrived earlier in the day, done a session on the Palma velodrome, and then ridden across the island to the hotel – serious stuff!
Next day I took things a little easier, jumping in the GB team car with coach Paul Manning to follow the women endurance riders on their training session over a similar route to the second day's pro ride – up Lluc, a short stop, with Wendy Houvenaghel and Jo Rowsell splitting off to do some solo stuff towards Formentor, and the other four, Lizzie Armitstead, Lucy Martin, Dani King and Laura Trott continuing down to Sa Calobra and back up for some timed efforts at, or close to, threshold levels. Impressive stuff.
Here's a shot of those four approaching the top of the Coll de Reis before the descent to Sa Calobra – they look happy and relaxed now, but believe me there were some major efforts put in on the way back up. Like I say, impressive stuff.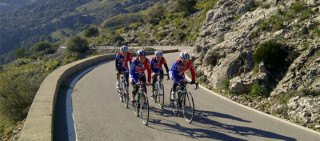 So, back in time for a short ride up towards Formentor and that was my week's riding over. I could have gone out at 7.00am on my final day for a morning ride with Steven de Jongh and colleagues, but I've heard how serious those rides are and somehow the attractions of a bit of a lie-in got the better of me. I reckoned I'd done my bit, having ridden every day on my visit.
An hour or so drive back to the airport and then it was a full flight back to Liverpool Airport (on which I picked up another streaming cold alas), followed by a quick drive to Manchester for a meeting of British Cycling's Major Events Commission, and that was my week done.
I'll try to keep the blogs coming, but meanwhile please let me know what you think.
Brian