Defending champions Great Britain will have the chance to chase more Olympic gold when the men's and women's team pursuit reaches its finale at the Izu Velodrome in Tokyo on Tuesday.
After a thrilling day of racing, Katie Archibald, Laura Kenny, Elinor Barker and Josie Knight qualified second out of eight squads in the fastest women's team pursuit competition ever seen over the 4km, 16-lap event.
In the men's race, Ethan Hayter, Ed Clancy, Ethan Vernon, Ollie Wood qualified in fourth place and will face an impressive Denmark in Tuesday's first round ride.
The GB women's quartet qualified second, behind Germany who smashed the world record in qualifying. The British quartet, with Neah Evans also in the squad, will face the USA in heat three of Tuesday's first round ride with the possibility of going for gold. Germany and Italy will face off in heat four, with the winners of those two heats meeting later on Tuesday in the gold medal ride.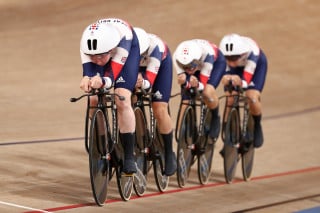 It promises to be a thrilling day of racing, given what happened in Monday's qualifying in which the existing world record, of 4:10.236 set by GB at the 2016 Rio Olympics, was bettered by three teams. The USA also crept under that mark while the Germans, in an early ride, set a stunning new world record mark of 4:07.307.
Great Britain's women made a perfect start as they rode eighth and last, with Archibald putting in a powerful turn of two and a quarter laps to get her team underway. The British were actually ahead of the Germans at time checks over each of the first three kilometres but faded slightly to finish just behind their rivals, in a time of 4:09.022 - faster than their old world record.
The men's competition was just as fascinating with Italy breaking the Olympic record of 3:50.265 set by Great Britain five years ago, only for Denmark to ride even faster, at 3:44.672. GB were due to ride eighth and last but their preparations were upset when the preceding team, Australia, suffered a spectacular crash when Alexander Porter's handlebars snapped last full speed.
The British went ahead and set the fourth fastest time of 3:47.507 - well inside their old Olympic record - and, having been granted another ride, the Aussies were unable to displace GB from the top four.
"You never want to see that," said Clancy of the Australian crash. "It's not easy sitting in the chairs waiting at the best of times, it gets the nerves going.
"But I don't think it affected us. I just don't think we quite had what we were hoping for. We were going well in our holding camp but that hasn't transferred into speed yet. But so far, we're still in the game."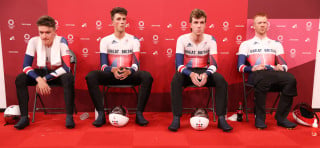 While GB face the Danes in Tuesday's first round, Italy will face New Zealand, with the winners of the two heats advancing to Wednesday's gold medal ride.
The opening day of the track competition, played out in front of a small crowd of 900 spectators inside the velodrome, saw China win the women's team sprint competition, with Germany taking silver and the ROC bronze.