Horspath made no mistake in claiming the 2021 Cycle Speedway Cup early on a fast Great Blakenham track, riding a young Poole team into second spot.
Arguably the strongest team in the UK and pre-competition favourites, the Oxfordshire club put on a strong team performance to take the match 100-74.
Easing through the previous days qualifying rounds and pushing past Ipswich in the first semi final, Horspath used their experience over the young legs of Poole.
British Champion, Mark Boaler, proved to be the rider to beat and with strong tactical riding from the rest of the Horspath team, Poole had their work cut out in the 18 heat match.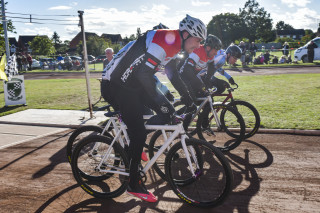 Solid riding from Poole's Aaron Smith in his first three outings kept Horspath from running away with the match early doors.
When the Horspath pair of Lukas Nowacki and Will Jeffery were excluded in the 7th heat, Poole capitalised with a 7-0 to put the Dorset side back in the match one point adrift, but Horspath always fight back and the next seven heats Poole really had the door closed on them with Horspath dominating proceedings and making sure the trophy was going back to Oxfordshire mid way through the second half.
Final
HORSPATH 100 V POOLE 74
Semi-final 1
HORSPATH 96 V IPSWICH 81
Semi-final 2
POOLE 106 V GREAT BLAKENHAM 76