Katie Archibald, Will Tidball and Danni Khan showed up for the Brits with three sensational wins in the fourth round of the UCI Track Champions League at Lee Valley Velopark in London.
Women's endurance
Danni Khan secured her first win at the UCI Track Champions League with a fantastic finish in the women's scratch race, before Katie Archibald showed who was boss in the elimination.
A two-up break early on in the scratch race increased the pace of the bunch within the first 10 laps, before coming back together at the halfway point. Sophie Lewis made a momentous sprint off the front with six laps to go, as Khan and American Lily Williams followed to make a strong group of three.
As they took the bell, Khan stormed ahead, closely followed by Williams and was carried home by the crowd to take an exhilarating win in her debut UCI Track Champions League. Lewis finished a commendable third place, while Katie Archibald came in sixth, Neah Evans finished eighth and Kate Richardson came home ninth.
Speaking after her win, Khan said:
"I never envisaged that I'd be part of this fantastic event let alone going on to take the win and to do it in London as well with my coach here who I wouldn't be here without and the support of my friends and family."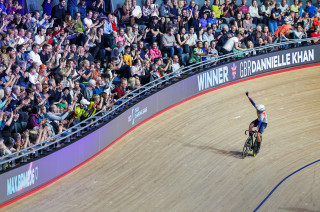 In the women's elimination, a crash early on wiped out most of the field, including Khan, Archibald, Lewis and Richardson. With Lewis and Richardson unable to restart, the race got going again with three British riders. Khan clung on to take 10th after falling heavily in the earlier race as Evans finished in fifth place after a great effort. In the final lap, Archibald had a brilliant battle with Anita Yvonne Stenberg, before coming into the final straight well ahead to take the win.
Archibald said:
"It was good. Bittersweet because of the crash that meant some riders couldn't finish the race. At this point I'm really glad, there was a midpoint in this series where I wouldn't have minded a dip to take the pressure off. If I focus on what I'm going to do then it's not an issue."
Men's endurance
Will Tidball took a fantastic win in the men's elimination race that ended in a tight photo-finish. Tidball rode a tactical race, playing it safe in the early stages, before taking more risks in the closing laps. As the last two riders took the bell, Belgian rider Jules Hesters pinned the British rider against the fence, before diving down, with Tidball hot on his wheel. The pair were neck and neck with the crowd roaring them home and lunged across the line in unison, before the photo-finish gave Tidball the win. Mark Stewart was eliminated in ninth place and Will Perrett finished 12th.
Speaking after his win, Tidball said:
"I wanted to have some fun with the home crowd, shame it wasn't in the rainbow jersey [like in the scratch] but what are the chances you get to do something like that. I also thought coming round the last corner 'I've got to win this now'."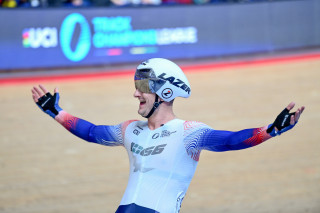 After a steady start in the men's scratch race, the riders started to string out as the pace increased, with Perrett leading a two-up with American Gavin Hoover. With just four laps remaining, four other riders bridged across to make a leading group of six, before the bunch quickly came back together. With two laps remaining, Dutch rider Roy Eefting went off the front and stormed to the win, with world champion Tidball taking fourth place. Scottish rider Stewart came in 11th place, while Perrett finished 14th after his fantastic effort.
Women's sprint
Katy Marchant finished second in the women's sprint, while Emma Finucane clung on for third in the sprint and keirin final.
Marchant eased through her first round ride off in the sprint, before diving under her two rivals in the semis to power through to the final. Facing Alessa-Catriona Propster, who had edged out world champion Finucane in the semis, Marchant gave her all, but was unable to get round the German rider and finished in second place. Finucane finished third overall, while Sophie Capewell came in ninth, Lowri Thomas finished 10th and Ellie Stone finished 14th.
In the women's keirin opening rounds, Stone gave it a good go to power off the front with two laps to go, before Finucane overtook on the bell lap and clung on to take the win. Thomas and Marchant were also paired together in their heat, with Marchant tired from her sprinting efforts to finish in fourth and Thomas just behind.
In the final, moves were made early on by Propster and Martha Bayona, before world champion and sprint leader Ellesse Andrews chased them down. Bayona snatched the win from Andrews in a dramatic finish, with Finucane clinging on to take third.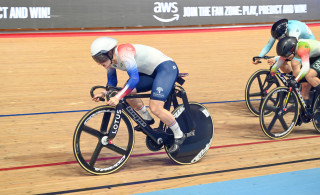 Men's sprint
Joe Truman was beaten in the men's sprint first round ride off by Dutchman Tijmen Van Loon, before being reinstated after a relegation. In the semi-final, he faced world champion Harrie Lavreysen in one of his toughest battles yet and put up a brilliant fight but was unable to progress. Dutch rider Lavreysen went on to take the win in a tight finish against Matthew Richardson, with Truman finishing fifth overall.
In the men's keirin, Truman had to battle from the back in his opening round, and made it round to fourth place, taking 13th place overall. World champion Kevin Santiago Quintero Chavarro took the win in a tense final race.
The Grand Final of the UCI Track Champions League takes place tomorrow from 17:00 on Eurosport, Discovery+ and GCN+.